The success of EU enlargement will take two to tango. Western Balkans countries must double down on their reforms and the EU must embrace the region – otherwise, the process risks becoming irrelevant. 
Last week, the European Commission published its latest country reports for all six Western Balkans countries. 
These reports are published annually and take stock of virtually everything, from the quality of democracy and rule of law to the administration of fish markets and procession of wild plant species in the region. 
Reports are generally accepted as the most objective audit of the health of Western Balkans societies. Here are four key takeaways that need highlighting.
Novelties 
We are used to Kosovo being a "sui generis" case. That was the case also with its annual EU report. If you look at the structure of all Western Balkans reports, you will notice that until this year Kosovo was the only country with a different report structure. While all other country reports were structured according to the formal 33 EU chapters of the acquis, Kosovo's report continued to have its own "sui generis" structure. 
In substance this didn't mean a lot, but it did symbolically. And in politics symbolism is a valued currency. As of this year, however, this has been remedied. The latest EU Kosovo report has been fully harmonised with the EU chapters' structure. 
Kosovo is also for the first time assessed in three new chapters: 17 – Economic and monetary policy; 22 – Regional policy and coordination of structural instruments, and 30 – External relations. 
On the flip side, Kosovo reports still lack assessment on two acquis chapters: 31 – Foreign, security and defence policy, and 33 – Financial and budgetary provisions.
Kosovo made progress this year
This year's report recognized that Kosovo made good progress overall. In the words of Commissioner Várhelyi: "Kosovo enjoyed political stability through the year and authorities continued to demonstrate their commitment for the EU path. 
"We recognize that Kosovo made efforts to strengthen democracy, rule of law and intensify its fight against corruption. Work is being done to lay the foundation for suitable progress in several areas."
Furthermore, the Commission reiterated its recommendation for visa liberalisation and recognized Kosovo's full alignment with the EU's Common Foreign and Security Policy. 
In particular, the report noted that Kosovo had immediately condemned Russia's war of aggression and had expressed support for Ukraine's independence, sovereignty and territorial integrity. 
The report commended Kosovo's readiness to accept up to 5,000 refugees and to host 20 Ukrainian journalists.
Diving into specific findings of the report I believe there are four important findings that recognize the renewed political will in Kosovo to advance EU reforms. 
First, for the first time, Kosovo's ruling majority is not accused of the politicisation and state capture of independent institutions and civil service. 
Second, also for the first time, the ruling majority is not accused of exercising undue pressure and influence over the public broadcaster RTK. 
In fact, it was the opposite. The report concluded that RTK had "entered a new phase of its development, with the newly appointed Board in November 2021. The selection process of the members of the RTK Board was merit-based, transparent and professional".
Third, there is a radical change of language on the much-debated rule of law "vetting" process. 
Last year, the EU called government vetting plans a "source of serious concern". It advised that vetting should be considered only as an exceptional measure of "last resort", to be used only when all existing tools and mechanisms "have been exhausted".
This year's report sees a complete U-turn. It "welcomes" the government's commitment to implement the vetting of judges and prosecutors in close cooperation with the EU.
Fourth, the report lauded the responsible management of public finances. In particular it commended government restraint from populistic spending. "Despite strong political opposition, the government took fiscally prudent positions regarding war veterans' pensions and the Kosovo Pension Savings Trust," it said. 
These are all very welcome and encouraging developments. Typically, governments in Western Balkans tend to use state institutions, media, public assets and resources to consolidate their grip on power. 
It is refreshing to see that Kosovo has turned the tide. We see this trend not only in politically sensitive areas but across the board. 
According to our own research, we concluded that, in comparison with the previous year, during 2022 Kosovo doubled the number of implemented EU country report recommendations.
Major challenges remain
However, despite the progress it has made, Kosovo still faces major challenges and the pace of its reforms is far from ideal. This is why Commissioner Várhelyi noted: "We would like to see faster and more effective delivery of Kosovo's EU reform agenda."
The report confirmed the poor state of rule of law in Kosovo. Justice remains "slow, inefficient and vulnerable to undue influence", and there is a need for "strong political will to continue to effectively address systemic corruption risks and a robust criminal justice response to high-level corruption". 
The report recognized the government's failure to effectively command its legislative majority in the Assembly: "The Assembly's work continued to be negatively affected by a polarised political atmosphere by and difficulties in achieving decision-making quorum, even though the government relies on a strong majority." 
The report also noted public concerns with the often hostile behaviour of senior public officials towards media, and concluded: "Concerns remain regarding public smear campaigns, threats and physical attacks on journalists."
Finally, the dialogue – where the report repeats its biblical gospel that progress in the dialogue for normalisation of relations with Serbia is key to Kosovo's EU perspective. 
By the same token, the report also noted that the situation in the north of Kosovo "remains challenging, in particular in terms of corruption, organised crime, and the conditions for freedom of expression."
Slow progress throughout Western Balkans
Zooming out from Kosovo and looking at the larger picture in the Western Balkans, the reports note that slow progress on EU reforms. 
We are able to do that thanks to the European Commission assessment methodology that carefully assesses Western Balkans countries using a robust assessment methodology. Basically, the Commission assesses each country's annual progress according to two indicators: 
Preparedness to adopt the obligations of EU membership is assessed according to the following grading: (1) early stage; (2) some level of preparation; (3) moderately prepared; (4) good level of preparation; (5) well advanced.
So basically, each country, under each of the 33 acquis chapters, gets a grading in line with this measurement system. 
What we did is to take the European Commission qualitative assessment and turn it into quantitative visualisation. 
Doing this, we managed to measure and track Western Balkans countries' progress across all the acquis chapters and across different years. This year, we generated data for the five last years and therefore were able to come up with a number of important conclusions.
First, the pace of EU reforms of all the Western Balkan countries is very slow. In five years, the entire region has made very little progress in the implementation of EU-related reforms. 
The region progressed by an average of 0.2 points on a scale of 5 points in the last five years. Limited progress was mostly made by Albania and Kosovo. In Bosnia, North Macedonia, Montenegro and Serbia, progress was minimal.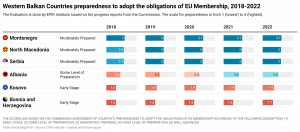 According to the current pace of reforms in the last five years, Montenegro would need 45 years before it could join the EU, North Macedonia and Serbia would need 50 years, Albania 60 years, Kosovo 75 years and Bosnia, 80 years. 
However, in a more optimistic scenario, where both the Western Balkans countries and the EU doubled their current efforts, Montenegro would need only 11 more years to join the EU, North Macedonia and Serbia 13 years, Albania 15 years, Kosovo 19 years, and Bosnia 20 years.
The EU acquis chapters in which Western Balkans countries are most prepared for EU membership are: 6 - Company law, 7 - Intellectual property law; 29 - Customs union, and 31 - Foreign, security and defence policy. 
The chapters in which Western Balkans countries are least prepared for EU membership are: 2 - Free movement of workers, 13 - Fisheries, 27 - Environment, 28 - Consumer and health protection and 33 - Financial and budgetary provisions.
So, in a nutshell, as stated earlier, the message is that if enlargement is to be a success, it requires two to tango. Western Balkans countries must double down on their reforms and the EU must tenaciously embrace the region. 
Alternatively, EU enlargement risks slipping from ostensibly impossible to poignantly irrelevant.
Demush Shasha is the head of the European Policy Institute of Kosovo, EPIK  Institute, in Prishtina. He has 15 years of public service experience in the area of European integration. Previous to that, he joined the Government as a junior officer for European integration, later becoming the General Secretary of the Ministry of European Integration. During this 6 year tenure in the Ministry he has overseen the negotiation of the Stabilisation and Association Agreement between Kosovo and EU and fulfilment of criteria stemming from the roadmap for visa liberalisation.