LUMBARDHI's director, Ares Shporta sits down for a talk with the Prizren-born art critic, theorist and scholar Sezgin Boynik.
On March 23, LUMBARDHI, the reinvented space of the historical cinema in Prizren, began its School for Everyone with a two-day 'course' on experimental abstract cinema. The seminar "History of Abstract Cinema in Two Days" was held by Sezgin Boynik,  a scholar of experimental art and film, as well as punk. Boynik is originally from Prizren but lives in Helsinki, visiting his hometown a few times a year.
LUMBARDHI, which was founded in 2015 as a follow up of the Initiative for the Protection of Lumbardhi Cinema, an informal group of 58 NGOs, is planning to host a School for Everyone as an ongoing project, promoting a secular and egalitarian idea of education.
Ares Shporta, LUMBARDHI's founding director sat down for a conversation with Boynik to talk about education, the importance of abstract cinema and how it relates to our militarized societies, and what experimental art forms can teach us.
Ares Shporta: You are here in Prizren for a two-day seminar on the History of Abstract Cinema. Tell us a little about the idea behind this seminar and the "School for Everyone" project.
Sezgin Boynik: Well, the idea for the project actually came from a discussion we had where you asked me if I was interested in doing something with LUMBARDHI concerning education, art and other areas of my interest. I was wondering how we could work with topics that are not usually discussed and taught in Prizren, such as abstract and experimental cinema. So discussing the forms and the history of abstract cinema was a way also to challenge the forms of education in Prizren as well.
The concept behind the "School for Everyone" was that you can teach anything to anyone, that there is no topic that is so difficult that one cannot teach to another. Because at the end of the day it's done by people in this world, and it's always possible to find a common language and the common references necessary to understand each other.
I intended to start with the origin of abstract cinema, in the '20s and '30s – a time  between two world wars, a time of great pessimism, the rise of fascism, the German Deutschmark breaking records of inflation, many countries heavily militarized, Stalinism in Russia, and all in all an extreme social landscape that shares many similarities with our situation today.
Despite the overbearing pessimism, there was very genuine and very brave artistic experimentation happening, and I suppose with the first day course I wanted to underline the lessons we can learn from those brave experiments for our current pessimistic situation. Today, living in the neo-imperialist political condition, we are passing  through almost the same militarization of everyday life as it was between the two world wars.
My suggestion would be to reverse the lesson: instead of learning from  oppressive realpolitik, we should take the steps toward  abstraction, towards subjectivity. To say it in a more simple way, instead of learning from the lies of the schoolbooks about state borders and world wars, we should learn from those who went beyond those boundaries with a true internationalist fervor. I don't see the reason why not to claim this internationalism in the works of abstract  cinema!
Shporta:  In the beginning we were thinking of a more experimental format to try to switch between Prizren-Turkish [a local dialect], Albanian, English and Serbo-Croatian but we saw last night after the second sentence that it wasn't really working, so we opted for English. Anyway, how do you feel about yesterday's seminar, how do you think the first day went?
Boynik: Well I have to say I'm determined to not exclude anyone because of language barriers – it is the "School for Everyone" after all. Especially since one of the biggest ideas that drove abstract cinema was to go beyond linguistic/national/religious boundaries, so that even someone in the remotest village in Africa or Japan would have no issues understanding a Hans Richter film or whatever.
Yesterday, with the topic "Abstraction in the Shadow of Revolution" my aim was to show how those abstract films had relations to social and political issues even when they weren't explicitly political. I showed films by Hans Richter, Viking Eggeling, Walter Ruttmann, Man Ray, Marcel Duchamp, Fernand Leger to show how a filmic language developed by way of emancipation from the language of painting, theatre and literature.
And it was important also to show how all these particular developments had relations to a historical moment in the Soviet Union [the October Revolution]. For this purpose I showed parts of one of the most important documentary film work of 20th century, Dizga Vertov's Man With a Movie Camera and the Suprematist minimalist work of Malevich to emphasise that the avant garde was greatly influenced by a "wind from the East." People usually think that the avant garde is the property of the middle-class white European men, whereas this was not the case as many of those artists were living in very poor conditions, and the best ones were living in Vitebsk, Moscow, Leningrad or Tbilisi.
Shporta: After having completed the second day of the seminar, tell us how it went and what you focused on.
Boynik: Well, the second day was a continuation of the first. The topic was "Esperanto of Abstraction" and it dealt with the quest for a universal language by the avant-garde and abstract filmmakers. I mostly screened US filmmakers as well as some UK filmmakers. I also had many examples from feminists and their contributions to abstract cinema and how they used the language of abstract cinema in feminist struggles.
I showed films by Lis Rhodes and Sue Friedrich, both from the '70s. The rest was a talk about the difficulty of abstract cinema and the necessity of a certain determination to do this kind of art. They don't make it just for fun but rather have an almost militant commitment to making only abstract film. An example I talked a bit more about was that of Peter Gidal, whom I interviewed for my journal I'm currently working on; Rab-Rab.
Then there were some questions which were mostly about the political representation of abstraction i.e. how ordinary people perceive the political dimension of abstract films.
[There was] the question of abstract cinema not being as politically explicit as anti-colonial cinema of Glauber Rocha or that of Pasolini and others. One of my positions in response to these questions was that critique needs to be medium-specific if it's to be valid. So if you want to make a critique of an artistic film you should make it with another film.
For example, you can look at what Hans Richter did, who was critical of Viking Eggeling's early experimentations with cinema which resulted in his Diagonal Symphony movie. Richter claimed that Eggeling's approach did not fully emancipate from the formal constraints of painterly expressions. In order to show this constraint, Richter made a new film, called Rythmus 21, which is considered as a leap in the formal critique of painterly kineticism. That's how abstract language advances. This is dialectical.
So, any critique that starts from the position "workers cannot understand these films, these films are for rich or decadent people, etc" is not valid because you cannot criticize artistic subjectivity from the point of view of political subjectivity, this is a position I relate to the French philosopher Alain Badiou's current research and analysis.
Shporta: Before we talk about Rab-Rab and some of our plans with LUMBARDHI and your independent projects, I would like to ask how this went as a first little experiment of sorts and how you think it will develop.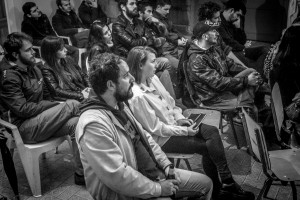 Boynik: Well, I enjoyed it a lot. It forced me to systematize what it is that interests me and make it presentable for a public that is not explicitly interested in these subjects but more likely interested in art or culture in general. So it was useful on the level that I got to present my positions in a more confrontational context.
I also met many young and enthusiastic people, so now it's just a matter of repeating such events. The idea now is that we do an event with Valdrin Prenkaj called "The Wretched of the Cinema" based on Frantz Fanon's work. The idea for it is not just to screen some films but to create a theoretical philosophical debate around those films, or the political-formal understanding of it, to make the contexts of the films more visible.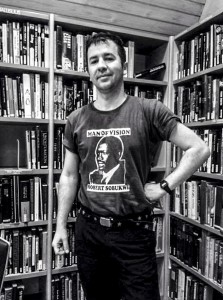 I plan to hold future talks on the Situationist International most likely, maybe some I will hold on the cultural revolution of the '60s, free jazz, black power in the US, anti-colonial movements and whatever people may find interesting and might incite the abstract and political discourse in this otherwise very provincial town.
Shporta: Could we talk more about your independent projects and research?
Boynik: I am more or less living between Helsinki and Prizren, which I visit three, four times a year.
In Helsinki I established a publishing house called Rab-Rab Press which publishes books, journals, etc. The journal we publish is called Rab-Rab: Journal for political and formal inquiries in art. We are dealing with the kinds of very abstract issues that have a political aspect as well. We are currently putting together some books by artists and researchers who use inquiry in a very experimental way, combined with a radical political commitment.
I have to say there is a very good atmosphere in Helsinki, many people are joining the journal and we are organizing talks that are fairly popular, it's going well.
Apart from that, I am working on a book on a conceptual art group called Art and Language. Parallel to all that I am also studying the Russian avant-garde, again I dive into the work of figures like Malevich. When I return to Helsinki now I will be working with the South African art collective Chimurenga (which means struggle). We will be doing a public research program on the international politics of free jazz, again related to anti-colonial movements.
A future project of mine is that I will start a publishing house similar to Rab-Rab in Prizren, called Shuplak-Shuplak [Slap-Slap] Press, which will work with this genuine Prizren situation of multi-lingualism and multi-culturalism – as much as I hate that word, in Prizren it is genuine. The first book we will publish will be about a strange encounter between the [Yugoslav] communists and a religious sect (Melamis) in the '20s in Prizren.
In the current conservative political situation there is a strong amnesia when it comes to this amazing history. There was a notable religious leader in Prizren called Haxhi Ymer Lutfi Paqarizi who contributed to internationalist communist thought in a very original way.
Afterwards, there is a plan to translate the book by Georgian futurist Ilia Zdanevich on Albania, which he wrote in 1916. The plan is to translate that and publish it. The book is written in the Futuristic "Zaum" language and is a leftist perspective on the imperialist war over Albania in 1916. The book is full of neologisms, and the plan is to translate this with artist Nino Sekhniashvili who works with Zaum, in a participatory course and project in Prizren.  
Sezgin Boynik, lives and works in Helsinki and Prizren. He has completed his PhD in Jyväskylä University Social Science department on the topic of "Cultural Politics of Black Wave in Yugoslavia from 1963 to 1972". He has been publishing on punk, relation between aesthetics and politics, on cultural nationalism, Situationist International and Yugoslavian cinema. Co-edited reader "Nationalism and Contemporary Art" (with Minna L. Henriksson, Rhizoma & EXIT, Prishtina, 2007), and co-authored book on "History of Punk and Underground in Turkey, 1978-1999" (with Tolga Guldalli, BAS, Istanbul, 2008).  Apart from scholarly work he is also active as conceptual artist. He is editor of Rab-Rab: Journal for Political and Formal Inquiries in Art.
Interview has been edited.