Women's football has come a long way since the first season of the Kosovo Women's League 10 years ago, but there are still challenges to overcome: a lack of financing, infrastructure and exposure, and tackling social prejudices for starters.
Out past the village of Shkabaj, a 15 minute drive from the center of Prishtina, next to the Fairs Center, lays a football pitch. Between the blades of grass you can see small rocks and shells laying on the ground, and that's if there is any grass at all. Some parts of the pitch are just dirt patches where, in a distant memory, some grass once was.
The ball bounces unpredictably on the lumps in the pitch as the girls of KFF Kosova (P) warm up for their match against KFF Llapi. "It is bad but at least we have a pitch," coach Ilir Sopi says shrugging.
Sopi's gratitude for his side having pitch makes sense. Not that long ago KFF Malisheva, who this year finished third in the Women's Football League, were wanderers. 'Always playing away' as their coach, Valmir Krasniqi, likes to put it. "We did not have our own stadium. We only recently built our own as we have our finances under control," he says.
The difference in standards in infrastructure creates something of an unfair playing field. This season, Sopi and his girls faced KFF Mitrovica in the women's cup final, a match played at the Fadil Vokrri Stadium in Prishtina.
"How are we supposed to prepare for that match on this pitch?" the coach says, pointing at the grass. "That field is so much better than this one."
Mitrovica won the match 7-1.
It's not just infrastructure that's an issue, social attitudes haven't always helped women's football in Kosovo. Mitrovica's coach Seid Onbashi admits that even he had certain preconceptions about women's football at the start of his career.
"At the beginning it felt a bit weird coaching women," he confesses. "I didn't know that women played football here in Kosovo!"
Now, nine years later, however, the coach sees things completely differently. "The girls like football more than their male counterparts!" he says.
However, young girls who want to start playing football in Kosovo still face a lot of prejudice. Qendresa Thaci is now the captain of KFF Malisheva, but the beginnings of her career saw her experience pressure from her peers.
"My social circle didn't react too well," Thaci remembers. "They didn't like seeing any girl playing football, but the moral support of my family got me where I am today." Thaci's experiences are far from exceptional. Almost every player told Prishtina Insight stories about friends who told them that what they do is not normal, or that football is not for women.
The prejudice comes despite two women of Kosovar extraction reaching the top of the women's game. Fatmire Alushi was ranked the third best female football player in the world back in 2010, won the World Cup in 2007 with Germany and was European Champion in 2009 and 2013, while Kosovare Asllani recently became one of the first women footballers to be honored with a statue for her contributions to the Swedish national team.
But regardless of the success of Asllani and Alushi, the young girls who want to play football in Kosovo usually describe Ronaldo, Messi or Neymar as their idols. Aferdita Fazlija, the coach of Kosovo's women's national team is not surprised. "They appear more on television so it is logical that they are their role models," Fazlija said.
Still, the head coach sees a role that Asllani or Alushi can play in Kosovo. "It would be great if they [her players] could meet them or have a discussion with them. That would further cement their thinking that they could realize their potential."
The coach believes that the success of women footballers can have ramifications far beyond the pitch. "I think it can serve as a basis to strengthen the position of women in Kosovar society," she says.
It's not just that women get told that football is not for them, the amount of money invested in the sport suggests the same.
Financing women's football rests on international footballing bodies, the Football Federation of Kosovo, FFK, local municipalities and charity. "We are half dependent on the gifts of kind hearted people," Sopi tells Prishtina Insight with a deep sigh.
And kind hearted people are hard to come by. The Draft Law for Sponsorship and Donations in the Field of Culture Youth and Sport has been held up for years, and has still not passed the Assembly, meaning there are no financial benefits for companies to invest in local sport. When the law passes, donors or sponsors will be get up to a 10 percent allowance on their taxes.
When it comes to money from the federations, funding is heavily weighted towards the men's game. From the TV rights package the FFK sold in 2017, only 6,000 of the 250,000 euros went to women's football.
The difference in financial support from the federation makes Valmir Krasniqi, the coach of KFF Malisheva angry. "The gap is huge. Where the boys get 40,000 euros we get 4,000. Let it at least be 50/50," he says.
With the acceptance of the FFK into UEFA and FIFA in 2016, more money has become available. "Last year we got 6,000 euros from UEFA," Krasniqi tells Prishtina Insight. "With that money we paid for kits, food and the referees."
But even UEFA's funding of football favors men's football heavily. While Kosovo's men's clubs have received six figure sums for their participation in UEFA competitions in 2017, KFF Hajvalia received less than 12,000 euros for participating in the Women's Champions League.
However, despite the small budgets, Kosovo's latest representative in the Champions League, KFF Mitrovica, started employing professional contracts this year, becoming the first female club in Kosovo to do so. "We wanted to push the boundaries and let the girls commit to our team," Onbashi says. The contract binds the players to Mitrovica for three years.
The contracts serve another purpose as well. "I believe that money is a good motivation," Onbashi elaborates. "My team gets paid very well and I believe if other teams do that as well, the quality will increase. There are girls who played football professionally for over five years but did not get paid a penny. Of course they get cold feet and change profession."
An increase in quality for teams across the league would definitely help improve competition. This year saw KFF Mitrovica win the league, scoring 263 goals in 24 matches while only conceding five. At the other end of the table, Drenica failed to win a match and conceded 157 goals.
Krasniqi is also hoping for a higher standard of competition. "If we play against Drenica, Jakova or Ulpiana it is like we play against second tier teams," he says. "We beat them with five or six goals difference."
Women's national team coach Fazlija also has concerns about the domestic league. "For sure in a league that lacks competition the development goes much slower," she tells PI.
In April, Kosovo played two friendly matches against North Macedonia, the squad featuring 14 players from the Kosovo Women's Football League and nine from abroad. "The girls who play abroad and play in more competitive leagues are tactically and conditionally better than the girls who play in Kosovo," Fazlija says. "But there is no difference when it comes to technical capabilities."
Like their male counterparts, the women's national team is trying to qualify for the European Championships, which will be held in 2021 in England. "Since it is our first qualification a mid-table finish is much more realistic," Fazlija admits.
The lack of tension in the Women's Football League is also due to the withdrawal of two time champions KFF Hajvalia, after huge expenses and the lack of a pitch made their situation financially unsustainable.
Fazlija describes the situation of Hajvalia as a special one. "The club was established after FC Prishtina decided to withdraw from women's football, but with the financial difficulties the clubs have to face I worry that clubs will suffer the same fate and dismantle."
The Women's Football League has seen a lot of changes in clubs. Besides Hajvalia, KFF 13 Qershori from Suhareka also dismantled, with KFF Feronikeli from Drenas and KFF Jakova taking their place. It leaves players to wander around. "We do not see a decline in footballers in Kosovo," Fazlija says. "Rather we see a switch of clubs between different municipalities."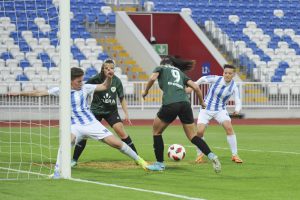 The lack of domestic competition makes European matches a challenge. Mitrovica debuted in the qualifying round of the Champions League in the 18/19 season, Onabashi's side losing 6-1, 4-0 and 6-1 again to opponents from Hungary, the Czech Republic and Turkey respectively.
"We only have one hard game in our league," Onbashi explains. "So when we play in the Champions League it is harder for us."
Lack of competition in the domestic league is not only a problem in Kosovo, it's a similar picture across the Balkans; one or two teams dominate the domestic league but fail to impress in the Champions League. A possible solution could be a joint competition, but Fazlija can't see such a prospect materializing.
"I do not see that happening soon for the simple reason that 90 percent of women's football is amateur," she explains. "Besides, across the Balkans the infrastructure is not good enough for such a project."
Another downside of the bad infrastructure is the lack of supporters. Where in Spain and France women's football can attract more than 30,000 spectators, women in Kosovo often play to a crowd of a cow and a sheep.
But Fazlija sees potential in these record attendances being set in Europe, and notices an increase in interest in attending matches. "But the lack of infrastructure do not allow these numbers to be higher," she says.
With all the challenges women's football faces in Kosovo it is easy to foresee a dark future but all the coaches, players and others involved remain positive.
"If the girls would get the same amount of money as the boys do, women's football will improve a lot," Sopi says.
His colleague Krasniqi agrees. "Recently the under-17 girls played a tournament in Estonia and won. A girl from my team was the best player at the tournament, even though there were players from top clubs all over Europe."
While walking away Krasniqi turns around with a big smile and yells: "Do not forget that Kosovo is a country of talent!"
Feature image: Atdhe Mulla.