Prishtina Insight dives into the Rick and Morty universe with Bryan Newton, the director of the hit animated sci-fi comedy series, who visited Peja's Anibar animation festival last weekend.
Last week, Peja was full to the brim with animators, artists, students, filmmakers and musicians for the tenth edition of the Anibar animated film festival. We caught up with Bryan Newton, director of the animated television series Rick and Morty, which has its long-awaited fourth season airing this November. 
Newton escaped from his cramped Los Angeles studio last weekend for the festival, seeing independent animated films screened at Peja's gorgeous lakeside cinema and across the city. Newton met with fans and filmmakers to present the animation and direction process of the show, and divulge some of the secrets behind the cult comedy series.
Rick and Morty has been airing since 2013 on the network Adult Swim. It follows the story of troubled alcoholic scientist, Rick, and his grandson, Morty, who spend their time going on adventures in space and across the many multiple realities that exist within the Rick and Morty universe, often ending in disastrous consequences for them and their family. 
Discussing his role in the creative direction of the show on Saturday at Peja's Jusuf Gervalla cinema — sharing animation quirks he authored, like empty alcohol bottles falling out of Rick's spaceship every time he opens the door — fans bombarded Newton with questions about Rick, the most pressing of all being 'what's inside those bottles?'
"It's probably Jameson's whiskey [the creator's drink of choice], but I think we could make it raki," said Newton, laughing. 
Newton grew up in Los Angeles, California, and studied for an undergraduate degree in Digital Media from the Otis College and Art and Design. After working in a small animation production company for three years, Newton landed a job as an animator and storyboard artist for Cartoon Network.
Newton met the creators of Rick and Morty while working on an animated short video for their previous television show, Community. After they made contact, the creators reached out to Newton, getting him on board to develop the pilot episode of Rick and Morty, his first time as the director of a televised show.  
Newton said that the cartoons kids in America were exposed to growing up in the 1990s drew him to the animation industry.
"I gravitate towards narrative stories with strong moral ideas, like Batman – a dark avenger whose parents were murdered who wants to stop crime from affecting anyone else," he said, listing off Beavis and Butthead, Ren and Stimpy, The Simpsons and Brave Little Toaster as creative influences that inspired him to follow animation as a career.
"The stories, I felt something for them. My brother and sister wanted to watch music videos, sports, I already knew that I didn't care about that stuff, I just wanted to watch Bart Simpson get hit by a limousine, be fine, and then see the town rally against him. I made the choice to live in that fantasy," he said.
According to Newton, the creators of Rick and Morty drew inspiration from similar shows from the '80s — sitcom science fiction trope shows like Doctor Who, Back to the Future and Quantum Leap.
As an animation director, Newton's role is broad – he has creative input in most elements of the show's production, overseeing the design phase for specific episodes across the three seasons. 
This creative aspect is where Newton thrives most – he sheepishly described his contribution to the episode 'Interdimensional Cable 2,' where miscommunication with the creators led to some of his favorite animated bits of the show. 
"The script said that in this episode, a Mexican armada shows up, and that usually means a fleet of pirate ships. But my nerd brain automatically imagined a bunch of Mexican sombreros that are actually space vessels. I mean, that's a fair association considering the show," he said, laughing.
"I have worked on some genuine preschool children's animation, and this is by far the most childish thing I have ever worked on professionally," said Newton. 
The production of one episode of Rick and Morty takes around eight months, said Newton. 
Once he receives the scripts (which can take anywhere between two weeks and six months to write) he has between six weeks or two months to make the storyboards and backgrounds to match the script. 
Once that is approved, they are sent off to an animation studio, which will take around three or four months to animate the story. Finally, post-production can take around one month additionally, doing the final audio and musical score. 
Presently Kosovo does not have an animation studio. Students or animators need to go to nearby Tirana or to Croatia in order to find studios with the technology they require to pursue their career, or enjoy Anibar's annual animation workshops held in Prishtina and Peja.  
Croatia, Hungary and the Czech Republic have a rich animation culture, with three of the best animation schools in the world located in Zagreb, Budapest and Prague. 
"The more popular the show has become, the longer the production process gets," he said. "We need new backgrounds, new characters, so more drawing and more revision, it extends the production."
Despite the difficulties the show has had with its popularity, Newton is grateful for the opportunity he was given to work on it. 
"I owe my success to this show," said Newton. "Some of the best friends you make are on the most difficult productions, because you are all in the trenches together."
While the show deals with American politics, class, race and gender equality under the guise of animated comedy, the broad balance of the show is more straightforward. "It's a high concept sci-fi with real family drama," he said, explaining that animation is a great medium for dealing with more difficult emotions linked with being human.
In the episode 'Autoerotic Assimilation,' Newton recalled the discussions between him and the creators when they were directing a scene involving Rick attempting suicide. Rick constructs a complicated alien device, then he tries to prove that the device works first by bringing a small alien to life, killing it that with the device, and then failing when he turns the device on himself. 
"This was the episode I worked on that had the most impact," said Newton. "That part was so nearly cut from the show, and I'm so glad it wasn't. Since then, a lot of viewers who have dealt with depression and suicidal thoughts have shared that they reacted strongly to this episode." 
Newton takes Morty's parents Beth and Gerry as another example, explaining that side plots are often a dark comic relief from Rick and Morty's adventures.
"I've never shied away from dark material, it's a part of counter culture, pushing society, addressing certain existential questions about life and what it means for us to live in capitalist American society," he said. 
"We are watching Beth and Gerry's marriage fall apart as a result of enforced heterosexual monogamy, Gerry believes he has to wear the pants in the relationship, Beth wants to pursue her career but also be a strong mother. But they can't be free," he said. "On the other hand, Rick is the most free of them all, but a lot of repercussions come from that."
The show does not always maneuver these topics deftly. Newton recalled a story from a Q&A with fans where the creators of the show were asked by an audience member why Rick's surname was Sanchez, and whether his Mexican name would be addressed in the show.
The creators claimed they "didn't see race," leading to criticism of the show being white washed by its creators. According to Newton, this and other controversies are some of the themes that the show's fourth season will be tackling.
Talking about his favorite scenes in Rick and Morty, Newton believes no episode in the show demonstrates the 'high concept sci-fi with real family drama' theme better than 'Pickle Rick' from the show's third season.
"Rick turns himself into a pickle in order to avoid going to mandatory family therapy," said Newton. "The simplicity of this idea is what makes the episode so great."
"This episode also takes Rick down a peg," he continued. "Usually, Rick believes he's the smartest man in the world and no one is better than him, but that's boring. You need characters to challenge him emotionally as well as physically."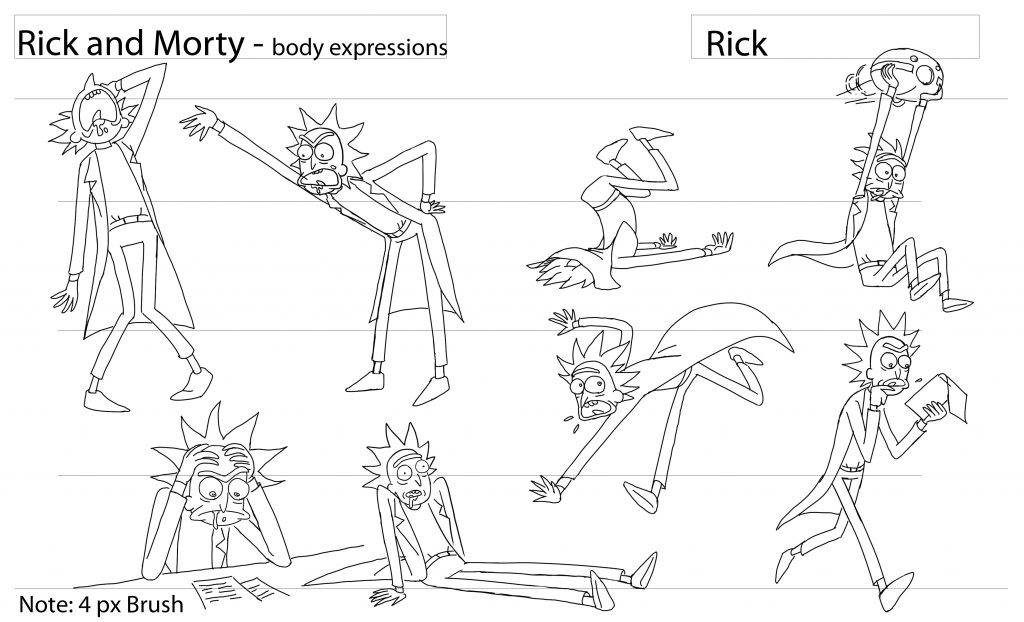 Newton recalled backlash from fans to the portrayal of Rick's character as emotionally complex. 
"I remember people online complaining about it, saying 'how could they do that to Rick, how could they emasculate him like that,' not realizing that that is the most interesting thing. Characters are more interesting when they're flawed."
Pickle Rick was written by Jessica Gao, one of the first women writers for the show, who won an emmy for her screenwriting. 
As the show's popularity has expanded, so has its fanbase. Rick, its reckless, narcissistic protagonist, has become an anti-hero for its young online and predominantly male following, and the character has been co-opted by followers of the show as a means through which to reinforce their own misogyny and prejudice.
Criticism of the show including 'diversity hires' in the writing team such as Gao led to women writing on the show having their personal information published online to provoke them into quitting the show, with fans engaging in far right political discourse online and using Rick's character as their figurehead. 
The creators have both acknowledged and addressed the more toxic side of the show's fanbase, according to Newton.
"Almost every episode in the next season deals with some element of this problem," he said. "We are aware and we're trying not to adhere to certain sensibilities. A lot of emphasis this season is on using the characters of Morty and Rick to explain, 'you know those things you think we're about? We are definitely not about that.'"
Rick and Morty has tackled these issues not just in the script and the plot, but also more subtly through the animation. As a character who enjoys "defying all social expectations," said Newton, he made a point of including a scene that confirmed Rick's diverse sexual orientation.
"In the script once, the direction was 'Rick sleeps with a ton of redheads,' but it didn't specify their gender," he said. "Rick is omnisexual, he doesn't care about gender roles, he's not about any of that."