Air quality measurements in Prishtina have alarmed residents, but a deeper look into the data might help us figure out the long term trends and how to protect ourselves.
During the last few weeks, much has been written about Prishtina's air quality. It has been declared "good," then "unhealthy" on some days, and even "almost hazardous" on others. And lately, the National Institutes of Health proposed measures to improve the situation.  However, I found the picture that these articles were painting to be incomplete and misleading, with hourly pollution readings being posed as indicators of long-term trends. This point-in-time approach is useful for warning people about air quality conditions in real time, but it doesn't depict the whole reality.
This is my attempt to help the reader understand the situation by guiding them through the key issues.
Who is measuring air quality?
There are many devices measuring air quality in and around Prishtina. Some belongs to the municipality, others are the property of the Hydro-meteorologic Institute of Kosovo. Even NGOs – such as Prosperity Initiative in Kosovo, PIKS, and their partners in the Science For Change Kosovo project – are working in determining the quality of air in Kosovo.
But one of the most reliable sources for air quality information, which is also the most accessible to public and commonly used these days by local media, is provided by the United States Environmental Protection Agency, EPA. The EPA measures air quality on an hourly basis through their monitoring device installed at the US Embassy in Prishtina and offers a real-time air quality analysis on their website AirNow.gov.
What is the Environmental Protection Agency telling us exactly?
The EPA determines Prishtina's air quality based on one parameter scientifically called "PM2.5," for particulate matter smaller than 2.5 microns. In other words, it is the concentration of a "super fine dust" consisting of particles which are over 20 times smaller than the diameter of a single human hair.
The EPA measures the concentration of these micro-particles each hour before translating them into air quality levels – good, moderate, unhealthy for sensitive groups, unhealthy, very unhealthy, and hazardous – according to an index used in the U.S. and other countries all over the world.
How should we interpret their data?
It is important to distinguish between an hourly snapshot of data and the overall average reality over time, especially since some media refer to hourly readings as indicators of long-term trends. While the air quality situation in Prishtina is far from ideal, there are different times of the day and year – as well as atmospheric conditions – that impact overall quality.
If you want to know if it is the right time for an early morning walk in Prishtina's streets, you can look at the EPA air quality index and decide if it is still a good idea, based on the hourly value shown on their website.
But this hourly indication shouldn't be considered as an air quality forecast of the day. The air quality can change very quickly and the impact of these micro-particles on our health has only be determined by scientists for exposure over 24 hour and yearly averages.
In this context, annual, monthly, or even daily analysis of the air you are breathing provides a better overview of the conditions in which you are living in and their impact on your health long term.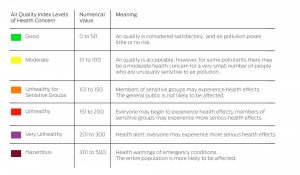 What did we breathe in the past few months?
The air quality in Prishtina was acceptable from May to August, before increasing in October and reaching warning levels in November. But the average concentration of micro-particles measured at the US Embassy during the last eight months is already double the annual limit determined by the World Health Organisation, WHO, the leading international public health agency of the United Nations. This without even taking into account the winter period, during which Prishtina's air is the most polluted.
According to the EPA data, Prishtina's air was "unhealthy" to "very unhealthy" 65 per cent of the time in the past two weeks because of the amount of micro-particles floating in the air. Meaning that the average concentration of micro-particles within the relevant 24-hour-period would induce people to begin to "experience health effects" while "members of sensitive groups may experience more serious health effects."
On the 12 of December at 11:00 am, the air quality reached a "Very Unhealthy" level for the first time since March. The 24-hour average concentration of micro-particles indeed reached the level of 151.9 micrograms/m3, which is over 600 per cent higher than the limit determined by WHO for a 24-hour human exposure (25 micrograms/m3).
What is the origin of this pollution?
These micro-particles floating in the ambient air are mainly produced by motor vehicles, coal-fired power plants, residential wood or lignite burning, forest fires, agricultural burning and industrial complexes. In 2013, a World Bank report was already identifying these sources as the main origins of air contamination in Kosovo.
In Prishtina, during the month of November, on most days the air pollution peaked during the evenings and nights. This is the time of the day when traffic jams reach their peaks and inhabitants return from work and start burning wood or coal to warm their houses.
But it would be too simple to only blame cars and residential stoves. Other culprits are also polluting the air, especially the two coal-fired plants located at less than 10 km from Prishtina city centre. Coal-fired power plants in Kosovo operate with low environmental standards, and due to long-distance travel of pollutants in the air, even cause the entire region millions in health costs.
Meteorological conditions (temperature, atmospheric pressure, humidity, wind and rainfalls) also have a significant impact on the air quality, with the power to modify the air composition over the course of a year or even a day. For instance, increase of winds can dramatically change air quality by dispersing the pollutants out of urban areas. Likewise, it can also help to bring in pollutants from coal-fired plants or other industrial activities located around Prishtina.
What is impact on my health?
When breathed in, particulate matter smaller than 2.5 microns can get lodged in the deepest parts of our respiratory system, leading to respiratory diseases and cardiovascular effects.
According to WHO, when it comes to air pollution, especially from particulate matter, "effects attributed to long-term exposure include mortality due to cardiovascular and respiratory diseases; chronic respiratory diseases (asthma, chronic obstructive pulmonary disease, and chronic pathological changes); lung cancer; chronic cardiovascular diseases; and intrauterine growth restriction."
In 2013, the World Bank estimated that outdoor air pollution in Kosovo causes "852 premature deaths, 318 new cases of chronic bronchitis, 605 hospital admissions and 11,900 emergency visits each year" and evaluated the damage costs from 38 million  to 163 million euros per year.
Nevertheless, PM2.5 are not the only responsible of air quality contamination, there are other elements in the air – gases such as Carbon dioxide, Nitrogen Dioxide, Sulphur dioxide, et cetera – that can damage the air quality, and therefore human health. But this is another topic that requires more data and in-depth analysis from different air quality stakeholders, and could be treated in a further article.
What can I do to protect myself?
The Kosovo Institute of Public Health has already published a comprehensive list of recommendations for institutions and individuals, which include limiting exposure to the polluted air through a number of actions.  Until the institutions do a better job of implementing their own set of recommendations – or until the wind blows the pollution away – following the institute's recommendations may be the best option we have.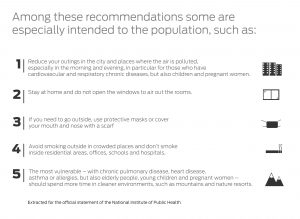 *Correction: An earlier version of this article referenced incomplete data regarding air quality levels on December 6. The article has been updated to reflect the air quality levels on December 12, when the air quality reached a "Very Unhealthy" level for the first time since March.