New figures published by the Kosovo Statistics Agency reveal a drastic increase in the overall death rate in Kosovo compared to previous years.
While the new variant of COVID-19, Omicron, spreads fast around the world, countries have started bracing for a new wave of infections. 
Scientists say the symptoms of this variant seem "milder" than with previous variants, such as Delta, but countries with vulnerable health systems still worry. 
New data published by the Statistics Agency on the mortality rate in Kosovo for the past two years show an alarming increase in the death rate compared to pre-COVID predictions for these two years, with September this year marking a record 200-per-cent increase in the death rate. 
While the number of infections, hospitalization and deaths is reported every day, it remains difficult to estimate significant trends from these numbers, or know how bad the rate is compared to how it might have been. Also, because countries report the COVID-19 deaths differently, it is challenging to draw comparisons among them.  
But researchers agree that excess mortality rates are a reliable metric in measuring the effect of the pandemic on a population. Excess mortality is the overall number of deaths from all possible causes, beyond what would have been expected in normal conditions.  
The general trend in the mortality rate in Kosovo before the pandemic was an increase of 5 per cent. This means that on average 5 per cent more people died every year compared to the year before – from 2015 to 2019. 
This number varied in months; cold January was the month when the most deaths occured. However, in 2020, average mortality rates increased by 33 per cent, rising in some months by as much as 70 per cent, as was the case in September that year.  
This year saw an even more drastic rise. Data from January to September shows that the mortality rate doubled in Kosovo compared to the same months in 2019, i.e before the pandemic. September 2021 stood out with an increase of more than 200 per cent in the death rate compared to 2019. 
This graph represents excess mortality for the years 2014 to 2021. The excess mortality for both 2020 and 2021 are compared to 2019, for better reference.
Older data for excess mortality, published by Our World in Data, put Kosovo under North Macedonia and Albania, which reported a 130 and 120 per cent increase in mortality, respectively. 
These comparative data, however, have to be taken with a grain of salt because deaths are sometimes not reported with precision, due to bureaucratic delays and other problems caused by the pandemic. 
Conspiracy theories about vaccines fading 
The news is more cheering when it comes to vaccinations. Once lagging behind, Kosovo now leads the region, with half of its population having had at least one jab, and 43 per cent of the population double vaccinated. 
A study bv BiEPAG in December 2020 warned that conspiracy theories about the pandemic, the origin of the virus and the vaccine posed a major risk to public health in the Western Balkans and had weakened trust in institutions and states, promoting populist views and undermining democratic development. 
In October 2020, when this survey was conducted, more than half of those taking part expressed hesitation about the vaccine and said that they would probably or certainly not get a jab. Another 8 per cent were not sure or refused to answer. 
One year later, things have changed. Half of the citizens have already been vaccinated. 
Factors behind this change may have included proper information issued through the media, public campaigns, people's own experience with COVID or measures taken by governments to restrict access to public spaces to those who have not had jabs. 
The same study stated that ethnicity also matters when it comes to belief in conspiracy theories. 
According to BiEPAG 2020 study, Kosovo Serbs is the community in Kosovo most prone to conspiracy theories. They have displayed most resistance to vaccination: a tremendous 89.6 per cent of Serbs from Kosovo surveyed said that they would reject vaccines, the study found. 
The National Institute for Public Health does not have specific data for the number of vaccinated people from minorities, because the data represents the overall vaccination rate. 
All the other Western Balkan countries are close behind, with only Bosnia and Herzegovina seriously lagging behind.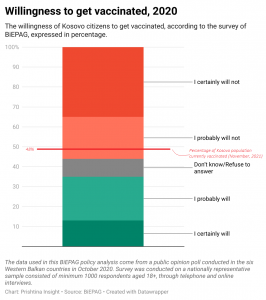 Kosovo seems to be performing better in this field than some EU countries, like Romania and Bulgaria, and has rates comparative to Slovakia and Croatia. 
Compared to the EU average, the Western Balkans is still lagging behind, however. The EU had vaccinated more than 70 per cent of its population by December 3, Our World in Data reports.  The average for Western Balkans is far lower, at just over 40 per cent.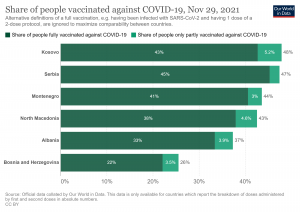 Note: the initial title of this article was modified from "Kosovo Death Rate Soars as Result of COVID, Data Reveal"