About 80 kilometers between Prishtina and Bujanoc in Serbia were the motivation for Nagip Tashi to name his exhibition of wood-carved mosaics, 'Distance'.
Inspired by his mother, Sevdija, and by his motherland of Kosova, a carpenter-turned-artist in Bujanoc, [Bujanovac] southern Serbia, Nagip Tashi, has broken borders with his mosaics composed of wood – beech, ash and oak.
While his mother was at his side – she raised him alone – as close as it is far from Kosovo, the carpenter worked on various personalities from Kosovo, Albania and elsewhere that have made history.
"There is something else you do not see in the mosaics. I don't know if it is good to share this, but I am sharing … In every picture you see tonight, I see my mother… " Tashi said in tears at the opening of his first exhibition in Prishtina.
In an interview for Prishtina Insight, he talks about the love for wood that made him a carpenter, the passion for art that turned him into an artist, and the connections between wood and art that have made him into an unusual artist.
His carpentry workshop houses his gallery. But, until his exhibition opened at the end of November in Prishtina, his work had remained hidden from the public eye within the carpentry workshop, open only to the virtual world.
The mosaics made for the exhibition, "Distance", are all figures drawn from the world of art and politics: Bekim Fehmiu; the heroic warrior Gjergj Kastrioti Skënderbeu; Kosovo's first president, Ibrahim Rugova; Ukshin Hoti; the human rights leader Adem Demaçi; Adem Mikullovci; Arbën Xhaferi; Hadi Shehu; Leze Qena; Muharrem Kadriu; Llukman Halili; Ridvan Qazimi- Vaja; Ibrahim Kodra – and former US president Barack Obama.
The main role in his choice of mosaics was played by his mother – since childhood, his only audience. Taking the place of an art critic, his mother pushed his passion into a profession.
"When I worked on the figure of Bekim Fehmiu, I had my mother as proof. After two months of work, I pulled it about 20 feet away from her, more interested in her opinion … than those in sculptors and painters," he told BIRN.
"I wanted to see the reaction of the masses in my mother's eyes. When she turned her head, she said: 'My son you created a man! After I heard those words, I saw that I did something good," he  recalls.
Paying a debt to his real homeland
Tushi tries to fulfill his love for art and for his real homeland of Kosovo by regularly attending cultural activities in the country. He considers work on important figures in the history of Kosovo a kind of debt to his homeland.
For him, paying 30 euros is not too much to come to Kosovo, even just to see a play at the National Theatre. 
"When I came to watch the play of Bajrush Mjaku at the Gjilan Theatre, I paid 20 euros in the border [for the car insurance], another 10 euros for gasoline for the car, and 2 euros for a ticket, so it cost me 32 euros," he said.
Tushi believes that his passion for theatre has stimulated him to work in wood. Each of the mosaics he is currently working on is inspired by the interior facade of the National Theatre of Kosovo.
"Vraja [Vranje, in southern Serbia] is much closer to me, but I have not worked on Vraja figures. When you are far away, you see something different – you have a different feeling  for your homeland," he said.
It was due to this distance from the homeland, and to other reasons, that he named his exhibition with 15 emblematic figures with the same name, "Distance".  
The symbolism of the title also refers to the distance that the audience must keep to clearly read the mosaic.
Wood is more than material to work on
A beech tree for Nagip is not just a material tool; the body of the tree hides time and another life.
His passion for art and woodcraft do not originate from a family tradition. Everything was born as a gift that he has worked on to turn into a profession.  
"When I started this craft, I saw how much more I love wood than windows. My love for art made me work in wood," he said.
To create a mosaic on wood does not depend on time but on the emotion he feels, he says. Some works take only five days, but he may work on others for three months.
Even though he knows that wood is a wild material to work on for drawing, he has challenged himself to recognize the peculiarities and symbolism that it contains.
"Even if wood is cut down, it lives for 100 years. I wanted my figures to live for as long as wood," he notes.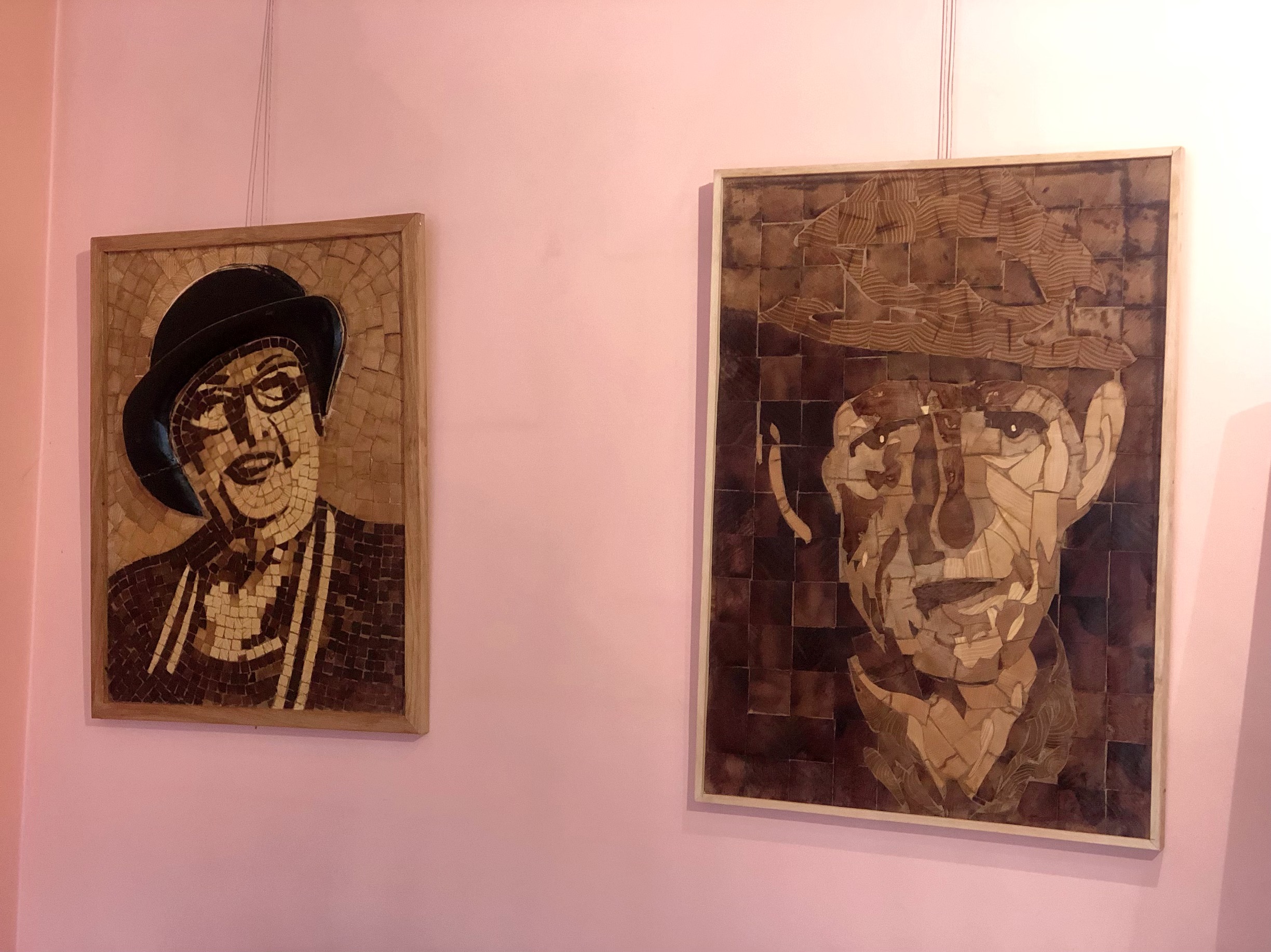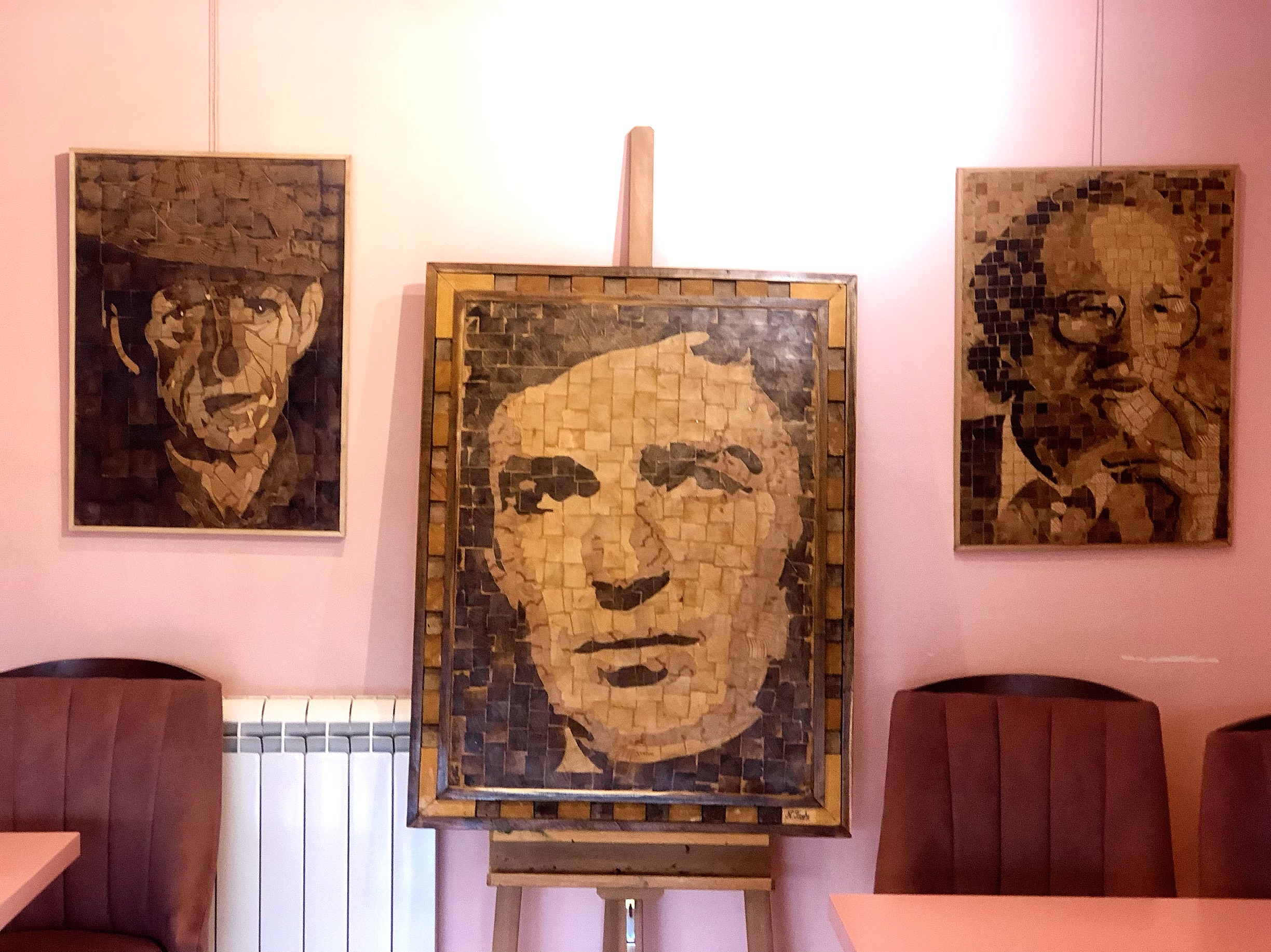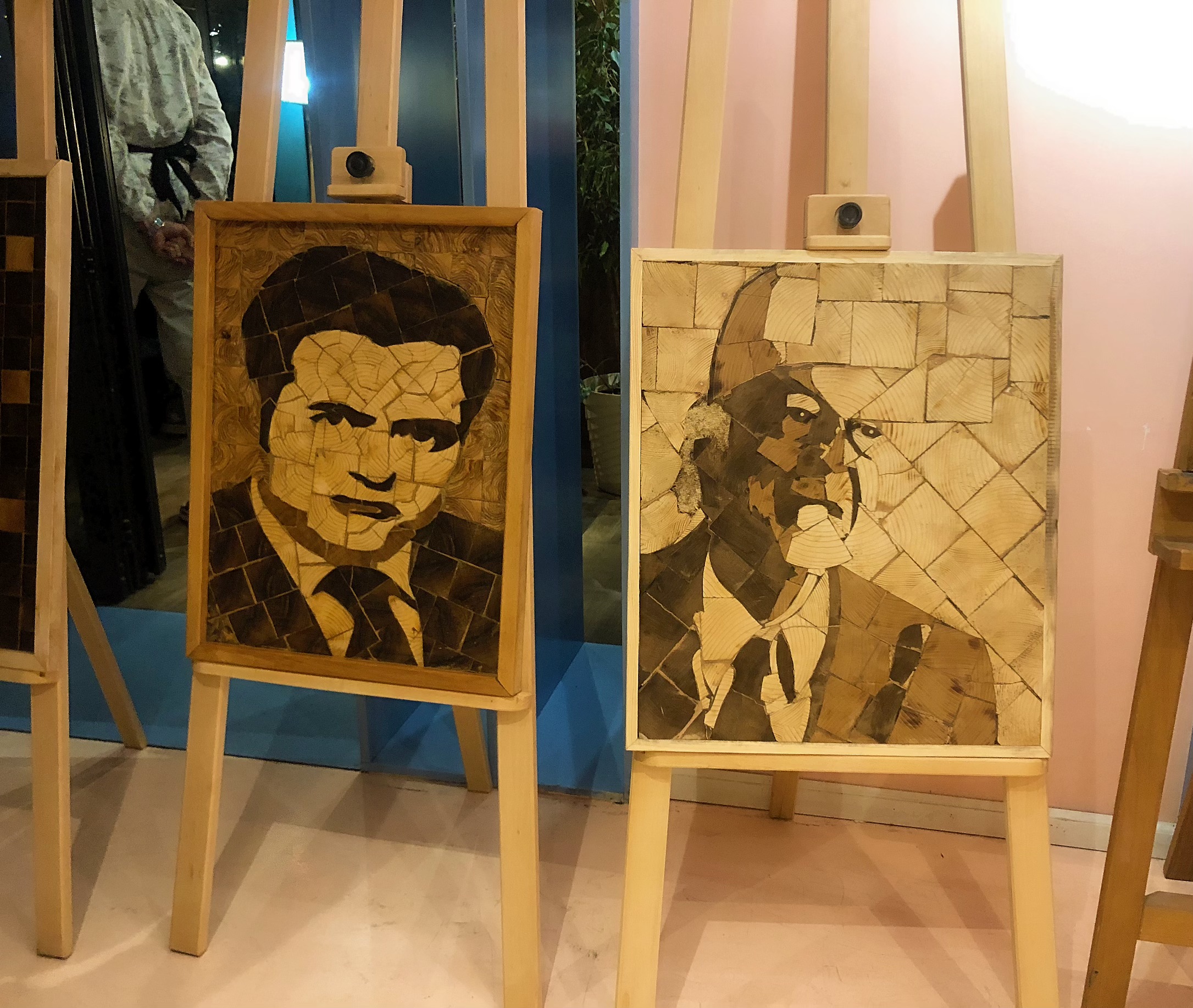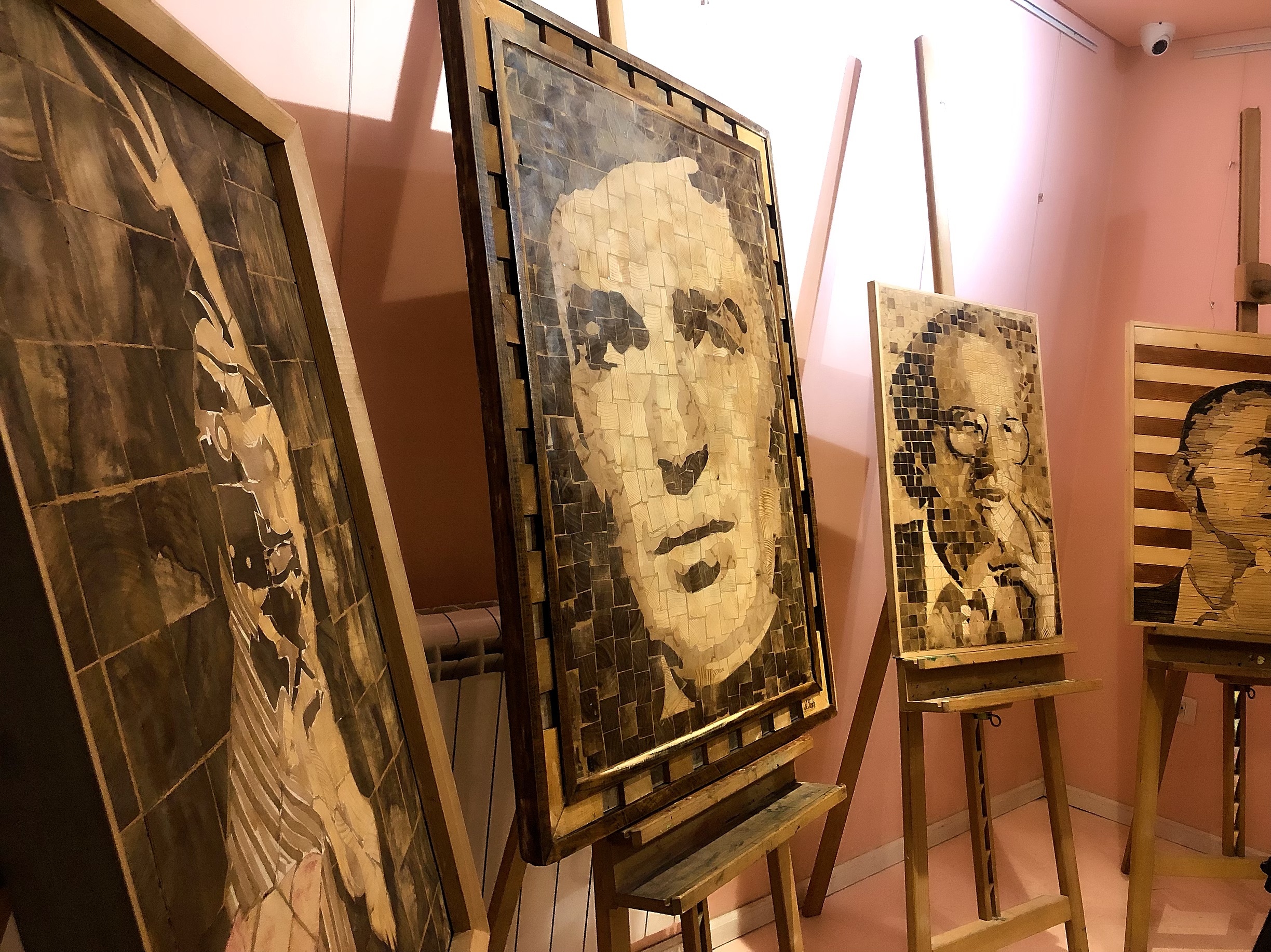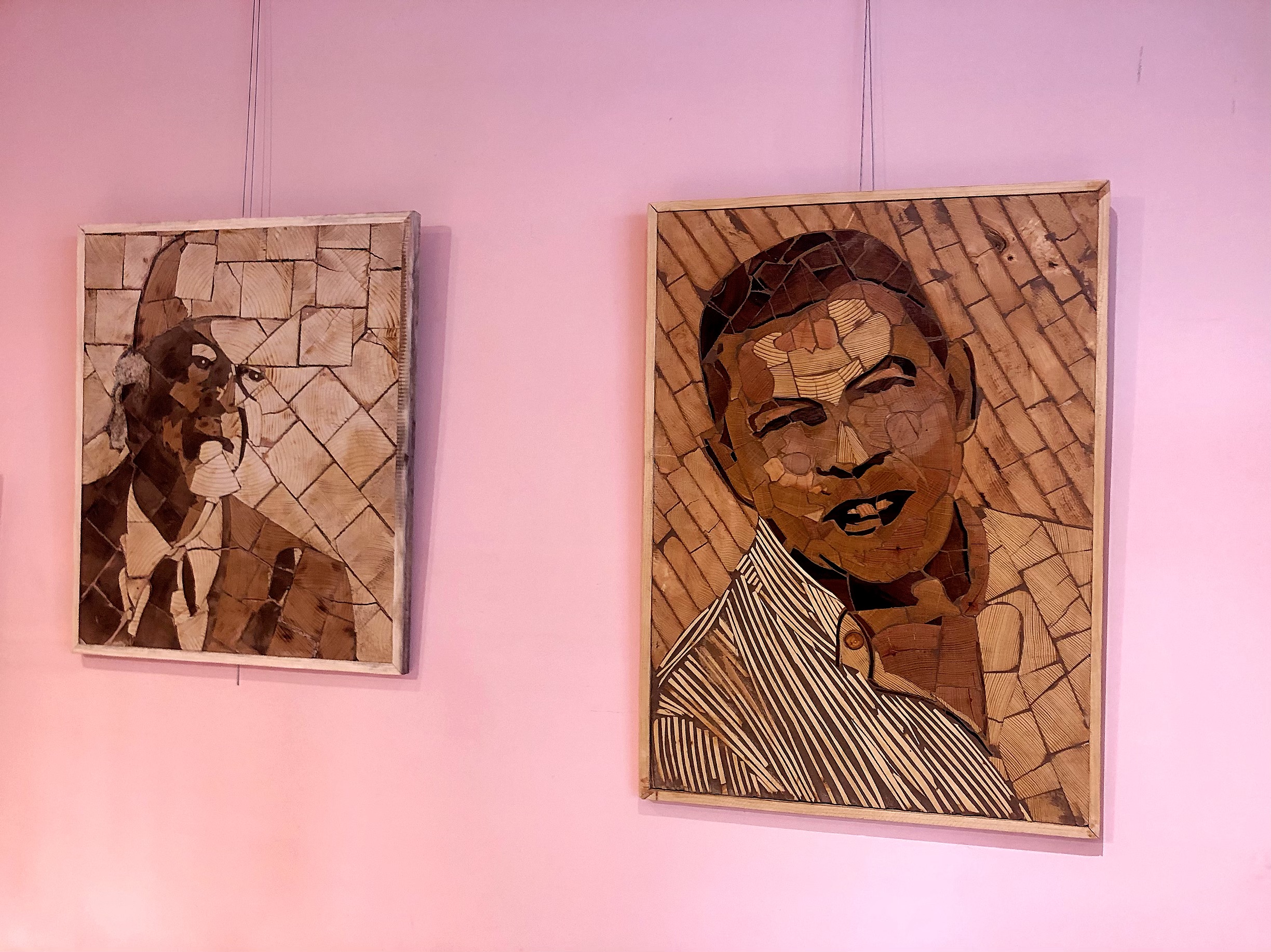 When the artist worked on the figure of the actress Leze Qena, the only woman depicted in his exhibition, he realized how much time he has devoted, and should devote, to such prominent figures. 
Moreover, after working on this mosaic, it was damaged because water penetrated it. To restore it to its previous form took almost a year.
"I told myself that I could return it to its previous form, but the time in which I worked on it I cannot return," he observes.
"Time is gold. Do not give time to anyone. The time that was not devoted to anyone, I devoted to  these figures," he concludes.