Public enterprise Kosovo Telecom has spent millions of euros on advertising and sponsorship in recent years, with much of the money going to obscure media companies with explicit links to the Haradinaj government.
A BIRN investigation has found that over 30 million euros from Kosovo Telecom's budget has been spent on advertising and media sponsorships over the last 14 years. 
Since the end of 2015, the company has paid out approximately 2.25 million euros on advertising and sponsorship, at a time when Kosovo Telecom has been operating at losses of tens of millions of euros per year, having once been the country's most profitable firm.
Although only 33 media outlets in total are registered with the Kosovo Press Council, the publicly owned enterprise has awarded contracts to at least 116 portals and online media in that time.
Among the beneficiaries are numerous companies run by politicians and those close to them, including one owned by former prime minister Ramush Haradinaj's brother. Businesses owned by MPs and other political figures, especially those tied to PDK, also benefited from lucrative contracts providing advertising space.
Former Director of Kosovo Telecom, Agron Mustafa, told BIRN that the contracts were simply an attempt to advertise its services. 
"In order to promote its products and reach the final customer, Kosovo Telecom has had to rent advertising space in various media, be it television, online portals, social networks or even billboards," he said. "This was the main reason, which I consider to be the fundamental basis of every business in the market when trying to sell its products."
Mustafa refused to comment on the amount of contracts signed with companies owned by individuals in, or affiliated with, political parties. However, he stated that all contracts were processed through the Marketing, Procurement, Finance and Legal Departments of Kosovo Telecom. 
Mustafa's successor as Director of Kosovo Telecom Gent Begolli, previously a member of political party the Alliance for the Future of Kosovo, AAK, refused to comment on the issue, referring to the process as closed. 
The AAK connection
One media company with significant political affiliations that has received payments from Kosovo Telecom in recent years is Agjencia per Informim Rajonal, which is not listed with the Kosovo Press Council. 
The company was established in 2017, the year Ramush Haradinaj was elected prime minister, while 40 per cent of the company's shares are registered under the name of his brother, Frasher. The rest of the shares belong to Flamur Kelmendi.
Kelmendi acknowledged being a business partner of Frasher Haradinaj, and confirmed to BIRN that the company signed an agreement with Kosovo Telecom. "We received approximately 1,500 euros a month, like all other portals that received money for advertising," said Kelmendi. "The agreement is now over and has been for a year."
According to data provided to BIRN by Kosovo Telecom, two contracts were signed between Kosovo Telecom and Agjencia per Informim Rajonal, one worth 7,550 euros in 2018 and one worth 6,650 euros in 2019.
Despite Kelmendi insisting that the agreement concluded a year ago, financial documents discovered during BIRN's investigation show that payments to this online media were made from November 2018, with the last invoice being paid on January 17, 2020. The documents show 15,700 euros paid to the company in total.
As well as being the brother of former Prime Minister Ramush Haradinaj and MP Daut Haradinaj, Frasher is also the husband of Vesmira Haradinaj, who, in March 2019, was appointed as Deputy Director of Finance at Kosovo Telecom. Her recruitment was approved without any vacancy being announced, and she has since been promoted to the position of Marketing Director at Kosovo Telecom.
Other AAK affiliates have also been paid large sums by Kosovo Telecom while the publicly owned enterprise was under the directorship of Begolli. Valon Tolaj, Managing Director of the Kosovo Privatization Agency and former general secretary of AAK, is the part-owner of another company that received thousands of euros.
Tolaj owns 25 per cent of shares in a business registered as 'URBAN MAG.Net LLC.' Based on evidence provided by Kosovo Telecom, the company entered contracts with the public enterprise worth over 20,000 euros over the last couple of years, with 9,466 euros paid in 2018 and 11,606 euros in 2019.
Tolaj has neither denied ownership of the company, nor the fact that he received money from Kosovo Telecom, but argued that he has little to do with the day-to-day running of the business. 
"The 25 per cent ownership and other legal restrictions make it impossible for me to deal with business management," Tolaj told BIRN. "This means that I have no idea on the amount of funds received not only from Kosovo Telecom, but from other deals as well."
Tolaj stated that Arlind Dermaku is in charge of the web page, which mainly focuses on architecture and design, and owns the majority of the shares. Dermaku did not respond to phone calls and email requests to provide clarification on the money received from Kosovo Telecom.
Another media company that is not registered with the Kosovo Press Council that benefited from contracts signed with Kosovo Telecom is 'Istogu Portal,' which has been active since January 2019. In its first few weeks of operation, it entered into a contract worth 9,500 euros with Kosovo Telecom. 
The business is owned by Agron Gashi and Arian Qorraj. Based on their activity on social media, both are affiliated with and supportive of AAK, particularly MP Beka Berisha, who is the husband of the Board of Kosovo Telecom's Chairperson, Besa Shatri-Berisha. Both Gashi and Qorraj refused to comment on this issue when contacted during the investigation.
Shatri-Berisha offered her resignation on February 19, 2020, hours before the current government took the decision to fire the board of directors.
Contracts for the coalition
It is not just individuals with connections to AAK that have benefited. BIRN's investigation discovered contracts between Kosovo Telecom and numerous companies with links to other parties that made up the previous governing coalition, including the Democratic Party of Kosovo, PDK, the New Kosovo Alliance, AKR, and NISMA. 
One such company was SHPK Media Group Republika, to whom nearly 35,000 euros was paid out over two years. The company is entirely owned by PDK official Driton Avdiu, who purchased it from journalist Besnik Batusha. 
Between July 2018 and July 2019, the company received 2,900 euros per month, reaching a total of 34,800 euros in total. BIRN contacted Avdiu, who refused to provide comment on the contract.
Another portal, LajmiExpress, has received 29,000 euros from Kosovo Telecom since 2015. The company's owner is Kaltrina Kajtazi, the daughter of the former PDK MP and a former deputy minister of Agriculture, Kurtan Kajtazi.
Kaltrina Kajtazi was hired in the marketing department of Kosovo Telecom in March 2019. She was contacted by Kohavision the same month and acknowledged being a recent employee of Kosovo Telecom. 
However, she refused to comment on the contract between LajmiExpress and her new employers, which has seen a monthly payment of 1,800 euros paid since May 2015.
'Qysh me' is another media that has entered into contracts from Kosovo Telecom, this time worth around 20,000 euros. Uranik Begu, son of PDK MP Flora Brovina, owns 33 per cent of the shares in the company.
Begu has confirmed that he was a shareholder in 'Qysh me' and that the company signed a contract with Kosovo Telecom for services and advertisements, but denied being involved in the process.
"We have performed services for around three years," he told BIRN. "The portal was said to be a success story. I was just among the shareholders and did not participate in the meetings when the contract was signed."
Meanwhile, the Tribuna portal, owned by Besiana Hoti, daughter of former PDK MP and ex-Education Coordinator Rexhep Hoti, benefited 35,400 euros from contracts signed with Kosovo Telecom. Arberesh.Info, which is run by Rrahim Pacolli, the brother of AKR leader and former foreign minister Behgjet Pacolli, received 39,000 euros between 2015 and 2018. 
Former NISMA MP, Milaim Zeka, received payments of 6,300 for services from Kosovo Telecom in 2016 through his 'Mozaik Kosova Media Center,' which currently appears to have ceased functioning. The following year this amount was reduced to 5,100 euros. 
Meanwhile, Zeka's wife, Edlira Qefaliaj, launched another online media in August 2017 called 'Mozaiku.' In the same year, the company received 1,700 euros from Kosovo Telecom, while in 2018, the amount increased to 6,937 euros. In 2019 the amount was 2,400 euros. 
Larger media receiving the highest value contracts
Numerous other media were also paid large sums by Kosovo Telecom for advertising and services in recent years. One was KosovaLajmi, which benefited hugely from revenues generated from Kosovo Telecom.
The portal was launched in June 2018, and during the first six months of operations received monthly payments of around 4,000 euros. According to data from Kosovo Telecom, a total of 42,000 euros has been allocated to KosovaLajmi.
According to data from the Kosovo Business Registration Agency, the portal was initially in the name of Jeton Isufi, while the authorized person listed with the Agency was Haris Ademi, a journalist at Klan Kosova. However, the company currently appears to be owned by a Mr. Valon Bahtiri.
Isufi told BIRN that he had given up on the business shortly after it was launched and gave it to Bahtiri for free. 
"I just launched that portal. Once I noticed that I might not succeed with it, I gave it to a boy, Valon Bahtiri seems to be his name," he said. "I gave it away for free, I didn't sell it to him, I don't know if there is any contract signed with anyone. It's been a long time since then." 
Bahtiri asked for more time to respond to BIRN's questions about Telecom's contract, but then failed to reply. 
Other media with links to the staff at Kosovo Telecom also received contracts for services. 
Faton Shoshi's 'IndeksOnline' portal received 75,000 euros by the time Kosovo Telecom was under the management of Gent Begolli between 2014 and 2019. His father, though retired, was hired as an adviser to Gent Begolli. Begolli and Faton Shoshi also have a joint business selling drinks named  'Piccuku O.P.'
Meanwhile, former PTK employee Astrit Gashi, who runs the Blicmedia portal, has received 82, 000 euros since 2015. 
The greatest benefactors from contracts signed with Kosovo Telecom have been the Lajmi.net portal, which received around 120,000 euros and the KosovaPress news agency, which received roughly 90,000 euros. 
Speaking to BIRN, KosovaPress stated that as an independent news agency, it offers a variety of media-related products, ranging from news and photo subscriptions, the launch of video-clips and broadcasts to the provision of advertising space.
Even online media that are not registered with the Business Agency have received financially benefited from Kosovo Telecom. 
One example is '365Dite,' a portal that writes about health, which entered into contracts worth more than 23,000 euros with Kosovo Telecom. Another unregistered business, AMMA Media D.Sh. received nearly 30,000 euros. 
A list of media entering into contracts with Kosovo Telecom and their value is included below.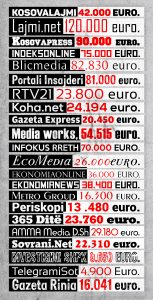 This publication has been produced with the assistance of the European Union. The contents of this publication are the sole responsibility of Ardiana Thaci-Mehmeti and can in no way be taken to reflect the views of the European Union or BIRN and AJK.