A discussion with Lola Sylaj and Dardan Zhegrova, winners of this year's Artists of Tomorrow NYC residency prize, about their work and their collaboration as artists and friends.
Arberore (Lola) Sylaj, 28, and Dardan Zhegrova, 25, are close friends and colleagues who have been producing artworks together since their early teens. It is apparent that they are close – they finish each other's sentences.
On October 20, they became the first duo to win the Artists of Tomorrow prize at the Stacion Center for Contemporary Art in Prishtina, one of the most important prizes for up-and-coming visual artists in the country. The biennial program, awarded and hosted by Residency Unlimited with support from the Foundation for Civil Society and the Trust for Mutual Understandings, offers the winning artist a two-month residency in a New York City studio.
Sylaj and Zhegrova submitted a collaborative, surrealist sculpture piece. The work, titled "Kujtimet e mia gjemba të vjetër gërvishin qiellin," (Memories old thorns of mine, scratch the sky), draws upon their mutual childhood experiences, Sylaj's work as an artist-activist, and Zhegrova's focus on self reflection.
"We have a middle ground, and we are on the same page," Sylaj said. Zhegrova agreed that his artistic focus on personal reflection and emotions compliments Sylaj's social critiques.
Sylaj and Zhegrova were born in Prishtina and grew up as neighbors. In their early teens, the two took part in an amateur filmmaking group and started experimenting with video and photography. Years later, Sylaj entered the University of Prishtina's, UP, film studies department only to be disillusioned with the conservative, play-it-safe nature of her courses.
After class, Sylaj would meet with her sister and another pair of sisters to discuss UP's shortcomings over coffee. The two pairs of sisters channeled their frustrations into establishing Kosovo's well-known performance and street art group, the Haveit Collective.
One of their first performances highlighted the case of Diana Kastrati who was murdered by her husband in broad daylight after a judge ignored her requests for an emergency restraining order in 2011.
"We created a performance on this issue without knowing that we would continue working. But as we kept discussing our complaints about public issues, we decided to keep addressing social problems in the public space," Sylaj explained. Since then, Haveit has created numerous art pieces criticizing the lack of water supply in Prishtina, homophobia and sexism, and patriarchal structures overall.
Meanwhile, Zhegrova began his own studies at UP. He originally wanted to join the film program but remembered Sylaj's negative experience, so he went for journalism instead. Zhegrova also ended up dropping out.
"I studied journalism for two years while working as a journalist, but my courses were focused on a conservative, classical journalism. I couldn't handle it," he said. But he admits that his studies influenced his comfort with writing concept notes for his works. "The program helped me with staying connected to people, with critical thinking, and to be a better writer."
Neither Sylaj nor Zhegrova have been held back by their decisions to drop out of school. In fact, Zhegrova has had one of his most productive years yet  – he managed to establish several new local and international partnerships through his work with LambdaLambdaLambda, a Prishtina-based contemporary art gallery run by two Austrian gallerists, and his co-directed short film I kissed your kiss on your girlfriend's cheek, it was still wet, screened at this year's Dokufest.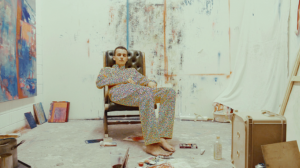 Zhegrova has also worked with Haveit over the years, assisting with visual production and providing the collective with critical discussion and feedback.
"We don't have proper art critics in Kosovo, and it is uncommon for people to actually challenge the work that artists do. So we have to do this for each other, to give honest opinions," Zhegrova said.
Sylaj and Zhegrova's tight friendship and artistic bond led them to renting a shared studio space together in Prishtina. This studio was the birthplace of their idea for "Memories old thorns of mine, scratching the sky," the winning piece for Artists of Tomorrow.
One day last year they were discussing how to put two of their works into conversation with one another. Specifically they were discussing a Haveit storytelling piece titled "Kur baba kajke, nana m'i lajke sytë" (When Father Wept, Mother Washed My Eyes), an installation of four videos streaming close-up shots of men crying while listening to inaudible real stories told by women. The piece questions masculinity and women's emotional labor.
Zhegrova's piece "Am I If You"  explores the ways in which his parents influenced his emotions and conception of his selfhood.
"We were discussing how to put these together while looking out of the window in our studio. We saw a group of young boys and girls playing football together. We started talking about when we were young, not thinking about gender, just playing games and having the same goal… how I was never thinking that I should be afraid of the ball or that I am fragile," Sylaj explained.
They knew they wanted to enter the contest together, but there was no precedent for funding collaborations or collectives.
"We wanted to challenge the idea of residencies for solo artists. When we were chosen as finalists, the panel told us that we could collaborate, but that we would have to fundraise for the extra costs. We will have to check the Ministry of Culture and Foreign Affairs, Culture for All, to check all possible avenues," Zhegrova explained before Sylaj jumped in to finish his sentence, laughing "or work and save up ourselves."
Between now and April, they hope to raise funding for one plane ticket and 2,500 euros for living expenses.
The Artists of Tomorrow will be their first collaborative residency abroad, although both have exhibited internationally (in fact, Haveit just participated in Tirana's HOMECOMING microgallery project with  MAPS – Mobile Archive on Public Space).
This is also Dardan's first actual international residency. In 2014, Dardan won a one month Italian residency with Villa Romana, organized through the "Hajde!" exchange program initiated by Petrit Halilaj, one of Kosovo's most prominent artists and the first artist to represent it in the Venice Biennale. But Dardan chose to do something unexpected. He requested to use his award to fund a four-month in-country residency with a temporary studio in Prishtina's neighborhood Pejton. At the time, he wanted to intervene on tradition of residencies abroad, and to comment on the relationship between international opportunities, personal desires to travel or to stay, and restrictions on freedom of movement.
But this time, in April-May 2017, Zhegrova will hop on a plane with Sylaj to spend springtime in New York City. They will have total artistic freedom to produce a piece to be shown at Stacion upon their return, and in New York City before they depart, if they wish.
The duo does not yet know what they will be working on, but they do know that it will be influenced by their time in New York, and that it will be a completely interactive process.
"I think one of the reasons we got this award is because we are collaborating. Collaboration is very important, especially now in Kosovo. We have to be together to build something new," Zhegrova said.
"Sometimes the art is more about the message. Of course, we put our personal stories into this work—but it's not just personal. We tried to pose questions that would allow everyone to reflect upon their own experiences," said Sylaj. "Our collaboration allows our message to be built upon more discussion and discovery than if we were alone."