An interview with breakout visual artist Tadi on her influences, becoming comfortable with painting, and moving on.
If you have passed through Kosovo in the past few years, it is very likely that you have seen Tadi's drawings on festival posters, promotional books, or independent magazines.
You might not have known the artist's nom du plume, or even her real name for that matter, but you would have noticed her signature style: jet black ink drawings of irreverently cool girls and boys, hanging out with a cat or two. These have propelled a steady flow of illustration jobs towards the 25-year-old from Mitrovica, but that's not what the artist wants to be known for.
"Those drawings have their place, but I feel like I'm growing, and for now painting feels right as a medium," she told me during the installation of her first solo exhibition at Prishtina's newest art gallery Motrat (Sisters). It's also the first exhibition ever hosted at Motrat, a project started by local design agency Trembelat and arts NGO FRABAAC.
Titled In a dream I saw lights coming out of your body, the exhibition will be on display until the end of March and includes six paintings of her favorite subjects: her flatmates and friends in bed.
"It's all about that feeling that people I live with give me – when they rest and sleep. It's really nothing sexual, just a good feeling," she explained, smiling. Her friends are used to being drawn, painted, or photographed by Tadi, who records her various experiments and projects on tumblr.
"When I'm painting, who I'm living with really affects me. The atmosphere, the colors," said Tadi, whose works include a painting of her sister Linda, her flatmate Gagi, and her friend Debi. The poster of the exhibition depicts her flatmate Gagi in bed, but only his eyes are visible, as the rest of his body is underneath the covers.
"It fit just right, but the reason you can only see his eyes is because I don't know how to paint his beard!" said a modest Tadi laughing.
It was a challenge for Tadi to paint six original works in one month for this specific exhibition, especially since she has not painted for two years, she said. The managers of the gallery, Fanny-Alma Seree and Yll Rugova, left her to her own devices and she "basically curated the whole thing."
"When I was in school, painting mostly felt like homework. When I started doing stuff I liked, I realized that I need to isolate myself and that I wasn't ready," she said.
Tadi moved to Prishtina six years ago to study painting, something she always knew she wanted to do. The experience of moving from Mitrovica to the capital was a great upheaval in her life, and she found herself lost at school, where most professors at the Academy had their own styles and preferred realism.
This made her self-conscious.
"I felt really judged back then, worried that people might see things I didn't want them to see," said Tadi, explaining that she started drawing sketches as the groundwork for her paintings, but ended up deeply enjoying the act of sketching itself.
"Painting is more fluid now, it's going more naturally. I don't have to force anything. Perhaps it's me getting older," she said. This change of mediums also made her think about how boundaries are drawn between what constitutes a 'painting' versus an 'illustration.'
"Why does an illustration by Polly Nor… why is one of her drawings not simply a drawing, or a painting – but an illustration?" she asked, frustrated with simplistic labeling of art.
"People ask me whether I'm an illustrator, but in reality I draw. I don't like to put a label on myself. I feel comfortable working in various mediums. It's best to ask people 'what do you do?'"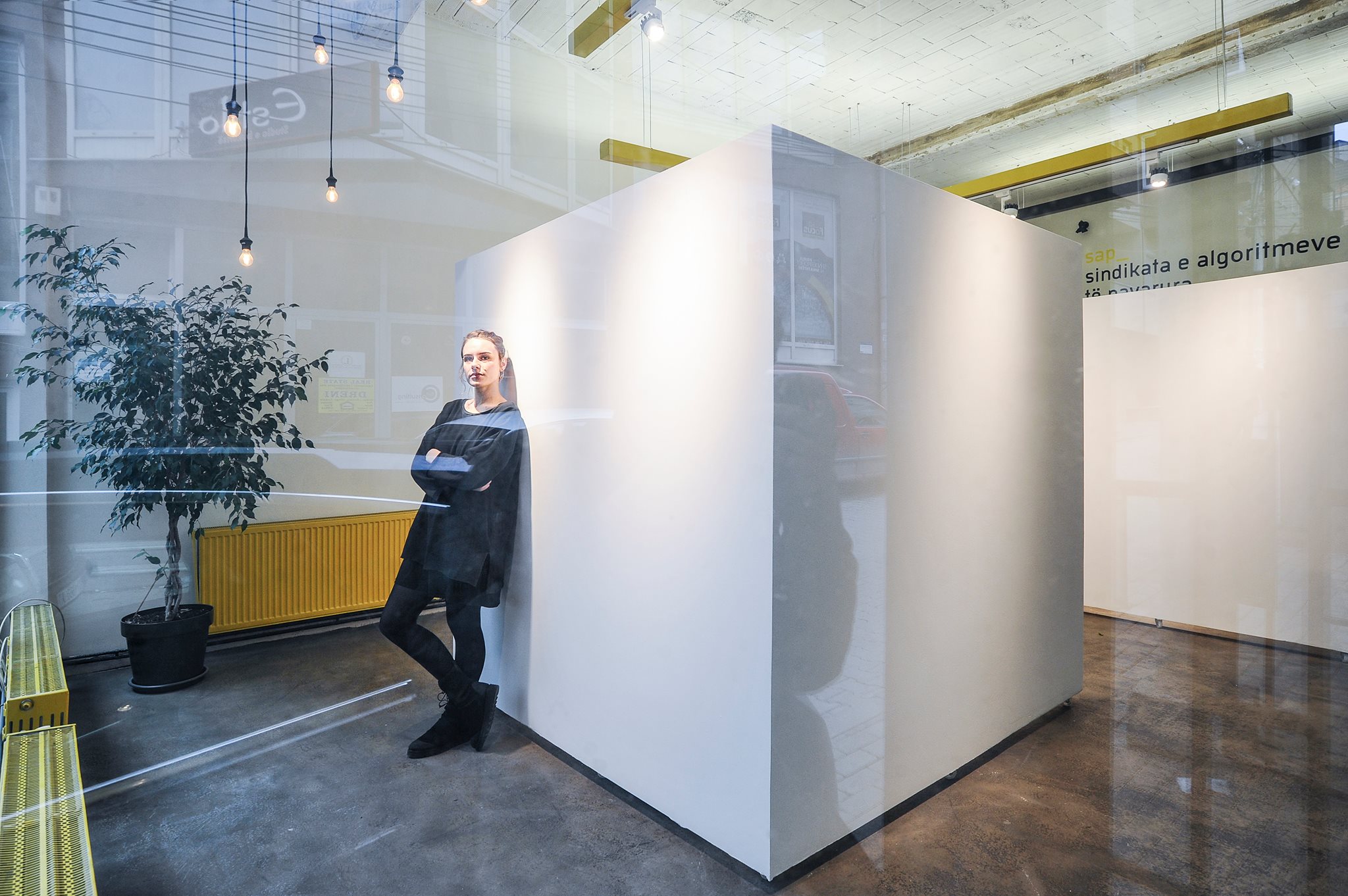 Tadi | Photo: Atdhe Mulla.
Tadi's work has appeared on the zine Lirindja, promotional materials for the feminist festival Femart, album artworks, and even in a book promoting Kosovo's bid for UNESCO membership. "I'm very lucky that I can support myself with this kind of work," she admitted.
But with an exhibition coming up this June, Tadi has shifted her focus back to painting, her love since the age of five.
"My sister Linda and I, we've always drawn and painted, and our dad pushed us, he made us feel good about it," said Tadi, recounting how her dad introduced her to Kosovo artists and showered her work with attention.
"My dad had this habit, he worked from morning till five; when he would come home he would always bring [me and my sister] paintings, printouts by different artists. Every day after he came home he would ask 'what did you do today?' and I knew that everything I did during the day would have some attention, and someone would value it or look at it. That made me put more effort into it," said Tadi.
Another childhood souvenir looms large in the small exhibition: a small painting that the artist reproduced in two of her own artworks on display.
"It's a painting my dad gave me when I was in elementary school, he bought it in a second-hand store in France. It was in my studio back home and it always accompanied me in life," she said, adding that church art has been one of her longstanding influences. "I always thought it was an angel but recently when I went to Mitrovica, where my family still lives, I realized that it's not an angel, but just a kid."
She found this ambivalence "cute," and a good way to interweave her wide array of references: from Christian symbols, to Japanese art, all the way to the cartoon Adventure Time.  
After spending a month in a West Balkan Calling residence in Vienna last September, she has also decided that she wants to live abroad.
"If we didn't have this visa regime I could just pick a place," she sighed, adding she might continue her studies in Germany. "I've never lived anywhere else more than a month, and when I was in Vienna I just noticed how isolated we are. The claustrophobia is killing me, it's very damaging."
"We Kosovo people, poor us, we are used to making the best of whatever we have. If I can study and live in a place – I will take it," she said, hurrying to add that she's not looking to simply run away.
"It's so important! Expand your horizons. It's not about me moving from Kosovo to Berlin – I wanna go places. Why wouldn't I go from Berlin to Peru? I need more of this world."