Similarly to what goes down in a football transfer season, political parties in Kosovo have been recruiting new members while also losing MPs, party officials, and even entire branches to their party rivals.
Between the months of June-August and January-February, Federation Internationale de Football Association, FIFA, and the Union of European Football Associations , UEFA, allow football teams to score outside the playing field by 'purchasing and selling' players.
Surprising and at times unforgivable transfers occur during these two periods, commonly referred to in football circles as mercato, an Italian word meaning "market."
Players transfer from small teams to larger ones and even join former rival teams, and such transfers are always bound to receive plenty of attention from the media.
In Kosovo, people are not used to large-scale transfer markets due to the limited development of local football, but another form of transfer market is at play which is possibly even more popular.
Kosovo citizens are spectators to a political transfer market, in which politicians transfer from one opposition party to another, from civil society to political structures, and even from one side of the political spectrum to the other.
The coalition of opposition parties, which has previously thrown water and tear gas in the parliament, held parliamentary boycotts, and organized protests outside of the Assembly, maintained a troubled coexistence for almost seven months. The coalition between Vetevendosje, VV, the Alliance for the Future of Kosovo, AAK, and the Initiative for Kosovo, NISMA,  ultimately fell apart after a unified protest set for March 26 was cancelled.
'The break-up' had a ripple effect, with one of the most vocal AAK MPs leaving the party.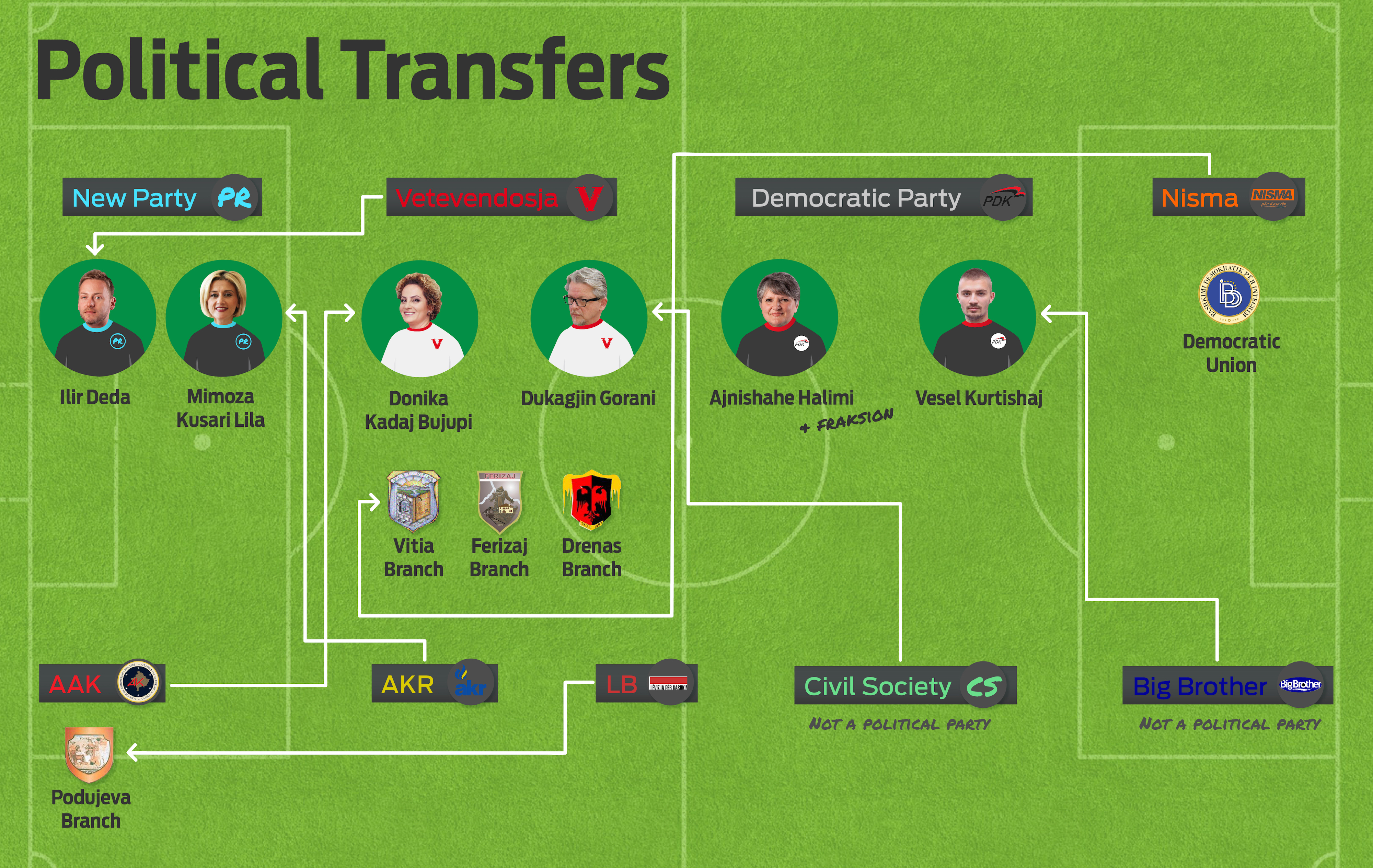 Electoral Marriages and Divorces
Before the opposition protests, it was unimaginable that Donika Kadaj-Bujupi, one of the MPs arrested for throwing tear gas in the parliament and a member of Ramush Haradinaj's close-knit circle, would 'betray' her party leader and continue her political career with Vetevendosje. Yet, she did.
Kadaj-Bujupi's statements from the ceremony announcing her VV membership are particularly noteworthy.
"If I were given the chance to choose between peace and justice, I would choose justice. Dear friends, considering the current circumstances, I chose justice and that is the very reason I am in your midst today."
Apparently, her former party's decision to refrain from triggering tear gas canisters inside the assembly or from unilaterally boycotting assembly sessions did not sit well with Kadaj-Bujupi. According to VV, both AAK and NISMA insisted upon an abrupt halt to tear gas being thrown in parliament, which by this point had become practically codified into political tradition.
Kadaj-Bujupi insists that her departure from AAK was due to the endurance of the VV cause.
"I believe that Vetevendosje is the only political entity in Kosovo that has achieved to maintain consistency in their stance, and [Vetevendosje's] determination and sincerity have transformed this political party into a constant of change in Kosovo and has allowed everybody who wants change to gather around it," she said in an interview for BIRN.
However, AAK MP Time Kadrijaj had a different analyses of Kadaj-Bujupi's transfer. Kadrijaj dedicated a Facebook status to Kadaj-Bujupi a few days later which referenced Odysseus' ruse de guerre to infiltrate the city of Troy. Kadrijaj accused Kadaj-Bujupi of being VV's Trojan horse in AAK.
VV further surprised the public opinion by enlisting former journalist Dukagjin Gorani within its ranks.
Gorani previously served as an advisor to one of VV's main opponents in power, the former Prime Minister and current President Hashim Thaci, who has been leading the country since 2008.
But, Vetevendosje also suffered losses in this transfer season.  One of its most popular MPs decided to leave the party after the kerfuffle in the parliament.
Ilir Deda, a who secured an MP seat with 13 thousand votes in the 2014, becoming one of the most voted Vetevendosje candidates, decided to withdraw from the party and possibly establish a new one. His decision could have not come as a complete surprise to the party leadership, since Deda has openly criticized many of VV's policies and strategies, such as throwing tear gas at the assembly.
Deda, similarly to Prishtina's current mayor Shpend Ahmeti, was a late addition to VV having been enlisted only after his first party New Spirit, FER, failed miserably in the 2010 elections.
Although Deda has not yet officially registered a new party, he has managed to enlist current Gjakova mayor Mimoza Kusari-Lila, who was previously the vice-president of the New Kosovo Alliance, AKR, led by Behgjet Pacolli.
En masse transfers to PDK
The most surprising transfer of all could be that of Ajnishahe Halimi, a former VV co-ordinator, who was welcomed into PDK with open arms in May 2016.
Once upon a time, Halimi was the only rival to Sami Lushtaku, the mayor of the predominantly PDK-supporting Skenderaj municipality.
Yet, after Vetevendosje accused Halimi of financial mismanagement in early 2015, she was dismissed and left the party with a group of disgruntled followers in tow. The former mayoral candidate also publicly accused the leadership of being undemocratic and formed her own 'party,' Fraksion +.  A year later the political 'faction' pledged allegiance to PDK's new leader, Kadri Veseli, putting their previous disagreements behind them.
VV met the news with indifference, but in an official statement, the party claimed that Fraksion + joined PDK ranks and had sworn allegiance to Veseli only for personal gain.
The party even claimed that Halimi's former anti-PDK campaigning was simply a ploy to secure a better deal once her posse joined the former rival.
"From the moment Vetevendosje dismissed them [Fraksion +], it was clear to Vetevendosje that they will end up at PDK. These people are incited by PDK and all of the accusations they issued were only for better leverage," Krasniqi said.
"They can say anything they like for as much as they want, I am not interested," Halimi said in response to VV's statements.
Additionally, Vetevendosje enlisted people from other parties, especially through absorbing a few branches of NISMA, including Ferizaj, Viti, and the Gllogoc branch where Jakup Krasniqi, one of the NISMA leaders and second most-voted in the party, originates.
On the flipside, VV lost Peja to PDK's Arton Muhaxhiri, a former VV secretary.
In addition to the political transfers from VV, PDK also welcomed new students, doctors, and even Vesel Kurtishaj, winner of the reality show Big Brother Albania.
NISMA's deals on the other hand were meager. Their only noteworthy win was a merger between the party and Zafir Berisha's Democratic Union, which anyway had been a coalition partner of NISMA until June this year.
Ramush Haradinaj's AAK took the Podujeva branch of the Movement for Unification, LB. Other than this recent absorption, Haradinaj's party did not score new members.
The biggest loser in the political transfer season was possibly the party which currently leads the government in coalition with PDK – the Democratic League of Kosovo, LDK.
Prime Minister Isa Mustafa's party did not welcome any new transfers – a strategy that might prove shortsighted, especially if like in football, the moment the transfer window closes, the actual campionato begins.