Around ten percent of Kosovo's population emigrated in the second half of the 2010s, and migration is still on the mind of many young people across the country.
It is almost impossible to hang out in Kosovo and not hear talk of people wanting to leave the country – and often not for the first time.
Arben Bytyci, a 27-year-old from the town of Suhareka in southwestern Kosovo, is one of many that has made a number of previous attempts to migrate. He sees no future for himself in Kosovo and wants to leave for a better life. 
Bytyci's mind was made up in 2016, when he quit his studies to focus on finding opportunities abroad. Possibilities to travel illegally to Austria and Slovenia had arisen earlier in his life, and he now regrets not leaving then.
"I had the chance to leave but I was not ready," Bytyci tells Prishtina Insight. "I was young and immature, I was full of fear."
The reasons for Bytyci seeking to leave the country are not solely financial, and he cites the precariousness of his work and the lack of labour rights in Kosovo. "I work on the black market in the construction industry from time to time," he says. "I have no insurance, no pension savings or anything else."

Not being employed in the formal economy, Bytyci did not gain from the Kosovo state's attempts to mitigate the economic fallout caused by COVID-19. "I didn't benefit from the state during the pandemic," he says. "Therefore, I am obviously not considered part of this state."
Bytyci says he feels the clock ticking and does not want to remain in Kosovo through his thirties. "Although I consider myself a young person, the pressure is increasing," he tells Prishtina Insight. "Things I was not able to do in my twenties, I now need to do in my thirties. In Kosovo, the life of a 20-year-old and people in their thirties is quite similar – same homes, same system, same situation we live in day to day."
Bytyci adds that the mood amongst his peers also helps drive his ambitions to move abroad. "My friends are always talking about migration," he says. "When you see so many people who want to leave, you make up your mind to go, even if you were not fully determined already."
In March 2019, Bytyci applied for a working visa at the German embassy in Prishtina after receiving an employment contract from a relative. His application did not receive a response, and an update to regulations on immigration to Germany from the Western Balkans that entered into force on January 1 means that he must now reapply.
"The new regulations dented my hopes, and I think I've been quite unlucky, but I will still try to leave," Bytyci says. "I'll apply from the beginning, what else can I do?"
According to the data obtained by Prishtina Insight from German Embassy Prishtina, there were more than 50,000 visas issued to Kosovo citizens in 2019, including 36,000 short-term visas and 15,000 for long term residence. Prishtina Insight also enquired about the number of applicants who were rejected but received no answer.
The Embassy added that the numbers were high compared to other countries around the world, while statistics published by the German Ministry of Foreign Affairs show that Kosovo citizens received the second highest number of residency visas in the region in 2019, just behind Bosnia and Herzegovina with 17,254. 
Reunifying the family
In Malisheva, a town in central Kosovo close to Suhareka, Imer Hoxha is determined to leave the country for the second time. The 28-year-old was one of the thousands of people who left Kosovo in 2015, in what was described at the time as an 'exodus.'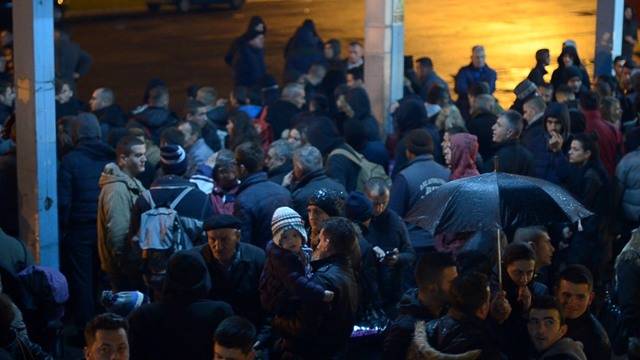 Hoxha's family, including his father, mother and brother all live in Germany, but his application for a visa was rejected. In June 2016, he was forced to return to Kosovo and issued a two-year entry ban to Germany due to illegally entering the country.
"It was quite demotivating when they told me about the two-year ban, but I never surrendered," Hoxha tells Prishtina Insight. "I was always trying to find ways to leave for Germany."

After the ban came to an end in 2018, his father sent guarantees and Hoxha applied for a visa. However, after three years of waiting, his application has still not been reviewed.
"We have to see what happens now with this new law – if it doesn't work, I need to find other ways of going," Hoxha says. "It's a basic right to unite with your family."
Hoxha is convinced that he does not want to live in Kosovo, and he is not alone. In a poll published by the Group for Legal and Political Studies in December, 48.4 percent of respondents expressed a desire to leave the country – an increase of more than 10 percent from the same poll conducted in 2019.
According to data published by the Kosovo Statistics Agency, ASK, around 170,000 people migrated from Kosovo between 2015 and 2019, roughly 10 percent of the overall population.
Finding freedom
Asdren Cervadiku from Prishtina says that only his body is in Kosovo, as his mind is elsewhere. The 31-year-old waiter says that he tried to travel illegally to Switzerland two years ago but failed to reach his destination.
"Like many other people, I thought: 'let's take a risk,'" he tells Prishtina Insight. "Some friends helped me to try to get to Switzerland illegally, but me and three other travellers were caught in Hungary."
Cervadiku spent five weeks in Hungarian jails but considers himself lucky, as he didn't receive an entry ban. He applied for Slovenian visa in June 2020 and wants to use Slovenia as a transit to go to Germany or Austria, legally this time.
The young waiter hopes that migration will help him gain more freedom as much as anything else. 
"I have no illusions about the West but I really need for another life – the discipline and the independence that the West gives you," he says. "You feel like a burden here, either to your family or to someone else. The living conditions aren't good and everyone relies on each other."
Feature illustration: Jete Dobranja for Prishtina Insight.