A retrospective exhibition of Alije Vokshi, known in local artistic circles as the first Kosovar woman to take up painting as a profession, will be on display in Prishtina through mid-March.
The name Alije Vokshi might not ring a bell even to an art student today. But the classically-trained painter—"the first Kosovo Albanian woman to study art," as she is known by her peers—is considered a pioneer in Kosovar fine arts.
Vokshi's new retrospective exhibition opened last week at the Gallery of the Ministry of Culture and is set to bring the artist back into the spotlight.
Her paintings will grace the walls of the gallery, located at Qafa in Prishtina, for a whole month to celebrate the artist and her work.
The solo exhibition, simply titled "Alije Vokshi – A retrospective," is curated by fellow-artist Lorik Sylejmani, who is also incidentally Vokshi's nephew. Sylejmani, who has grown up with his aunt's work, chose ten paintings and ten drawings to represent Vokshi's versatility.
"For this retrospective exhibition of Alije Vokshi I chose 20 works out of around 120 that she currently has in her studio," explained Sylejmani. "I wanted to include her most famous paintings, which are in my opinion her portraits. But I also included her drawings, which have not been exhibited that often."
The exhibition, which opened on February 16, was organized to mark the 10th anniversary of Kosovo independence.
"I wanted to invite Alije Vokshi to exhibit at the Gallery of the Ministry of Culture for a long time now. Recently we were asked by the Kosovo Presidency to select an exhibition in honour of the 10th anniversary of independence, and I was really happy that this request coincided perfectly with my idea to exhibit a retrospective of Vokshi's work," explained Dhurata Ramosaj Shala, coordinator of the Gallery.
One of Vokshi's most famous paintings is "Plaka në të zeza" (Old woman in black), a portrait of an old stoic Albanian woman wearing a black veil, suggesting that the painting's subject is grieving. The 1972 painting has been a part of the Kosovo National Gallery collection since 1981.
"The iconic painting 'Old woman in black,' which belongs to the National Gallery of Kosovo, is one of the artist's most known paintings and of course it had to be part of this retrospective exhibition, it wouldn't work without it. I was pleasantly surprised that it was in a very good condition, knowing that the National Gallery doesn't have the necessary space and equipment to restore and archive its collection," said Sylejmani, the curator.
Vokshi, 73, studied painting at the Academy of Arts in Belgrade and later in Paris. According to Sylejmani, she drew inspiration for her portraits mostly from family members and people that surrounded her. She also enjoyed trips back to her hometown of Pobergja, near Decan, where she was inspired by the beautiful surroundings and the proud and obstinate people.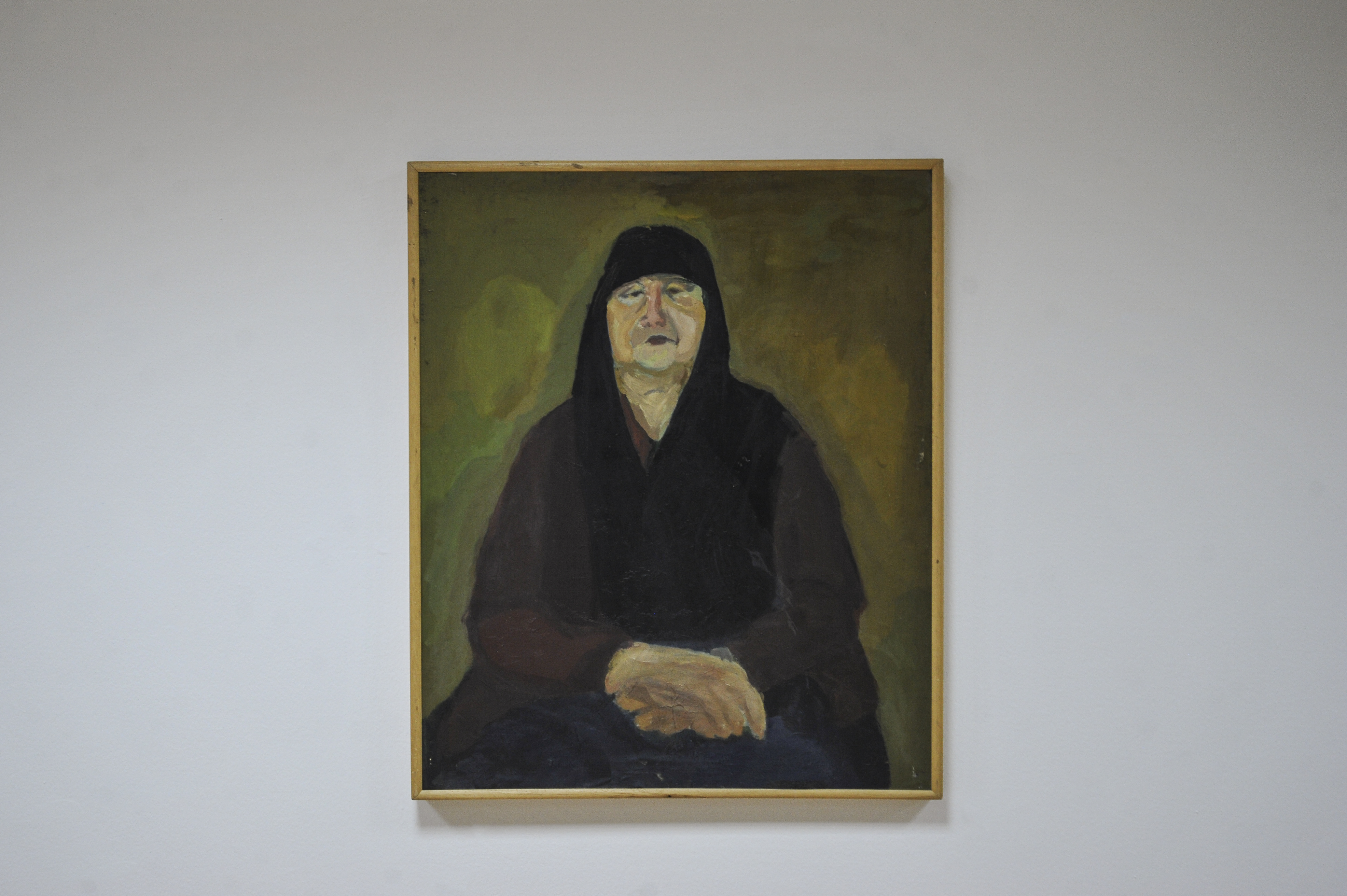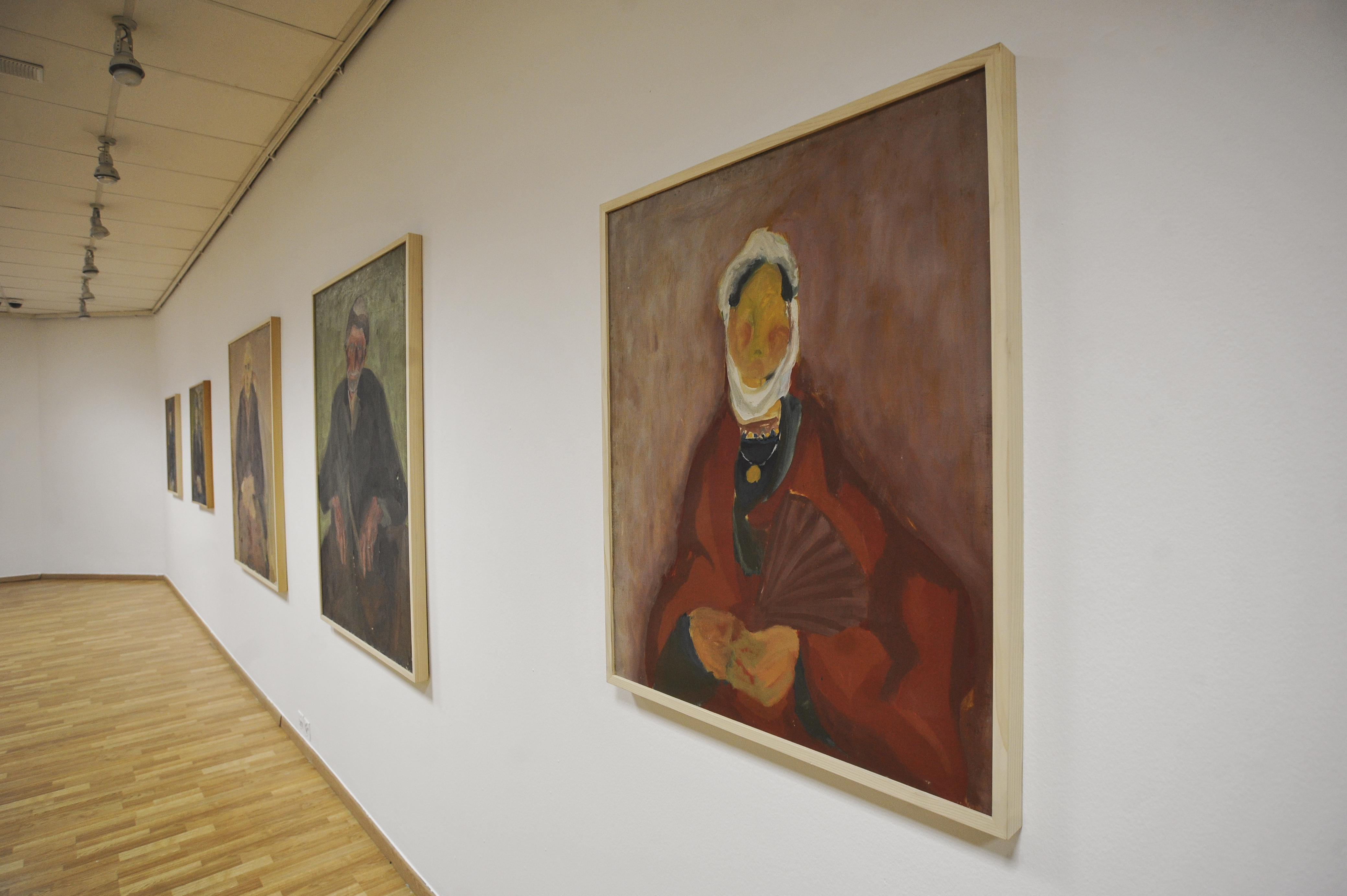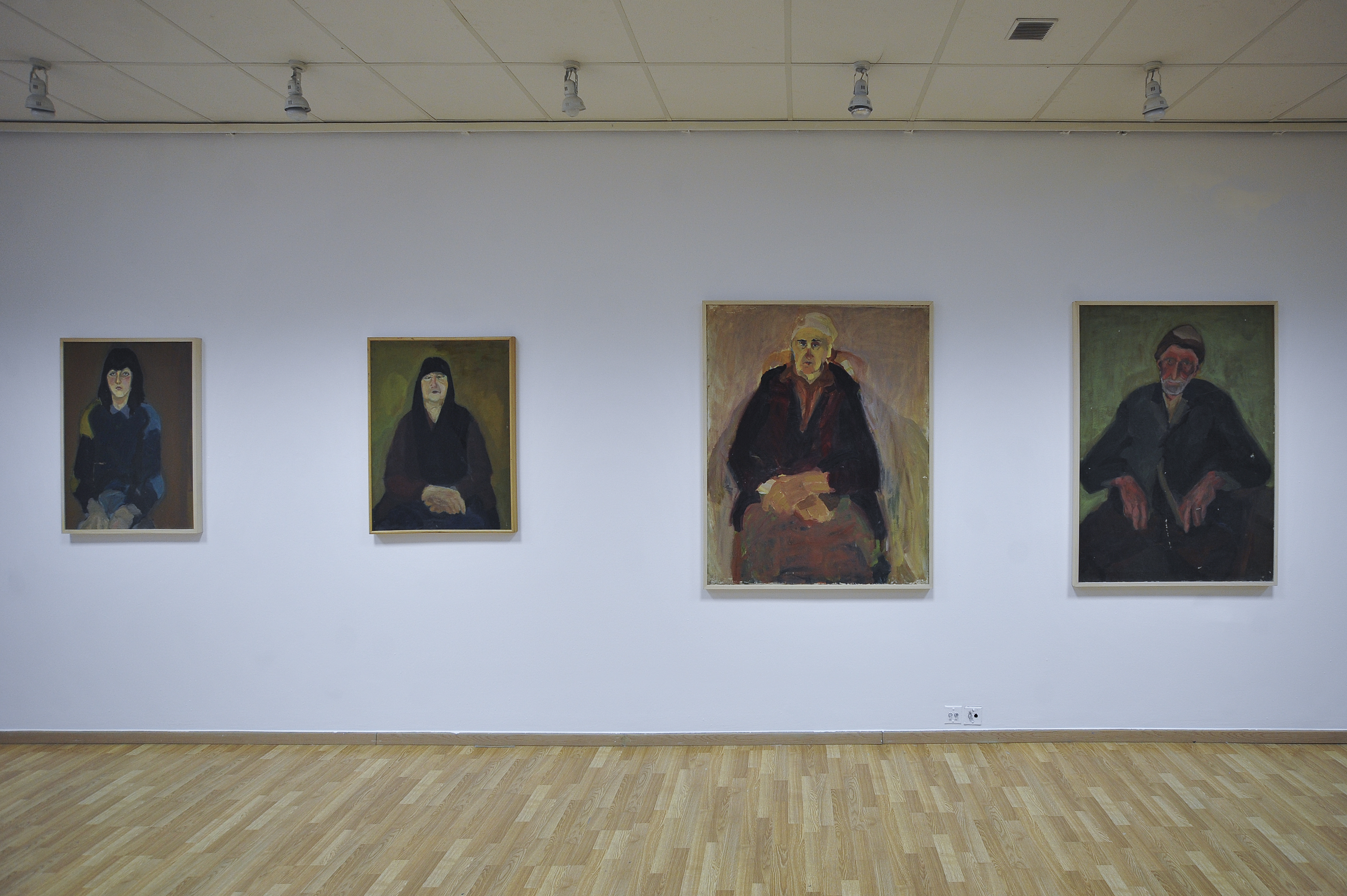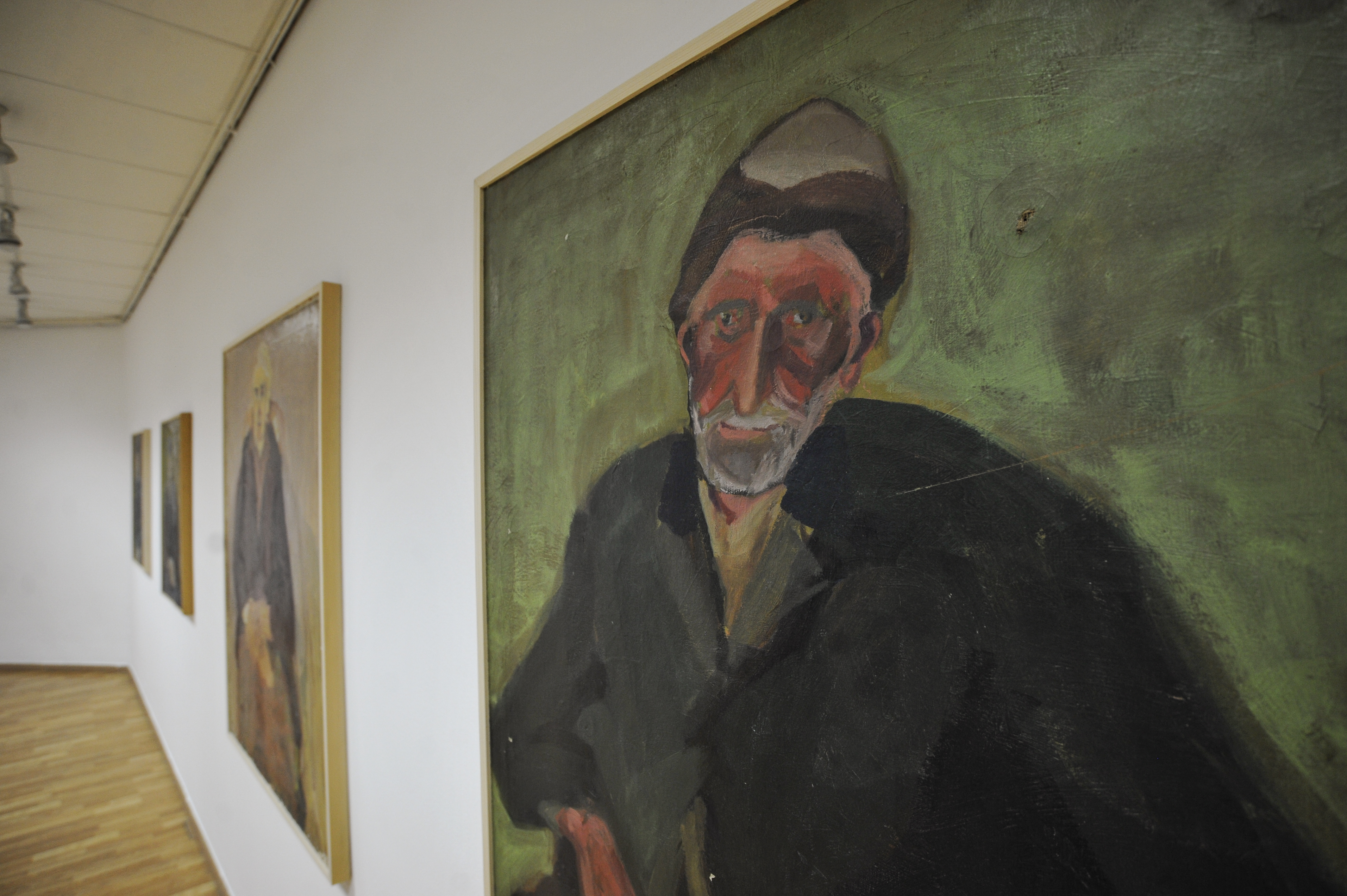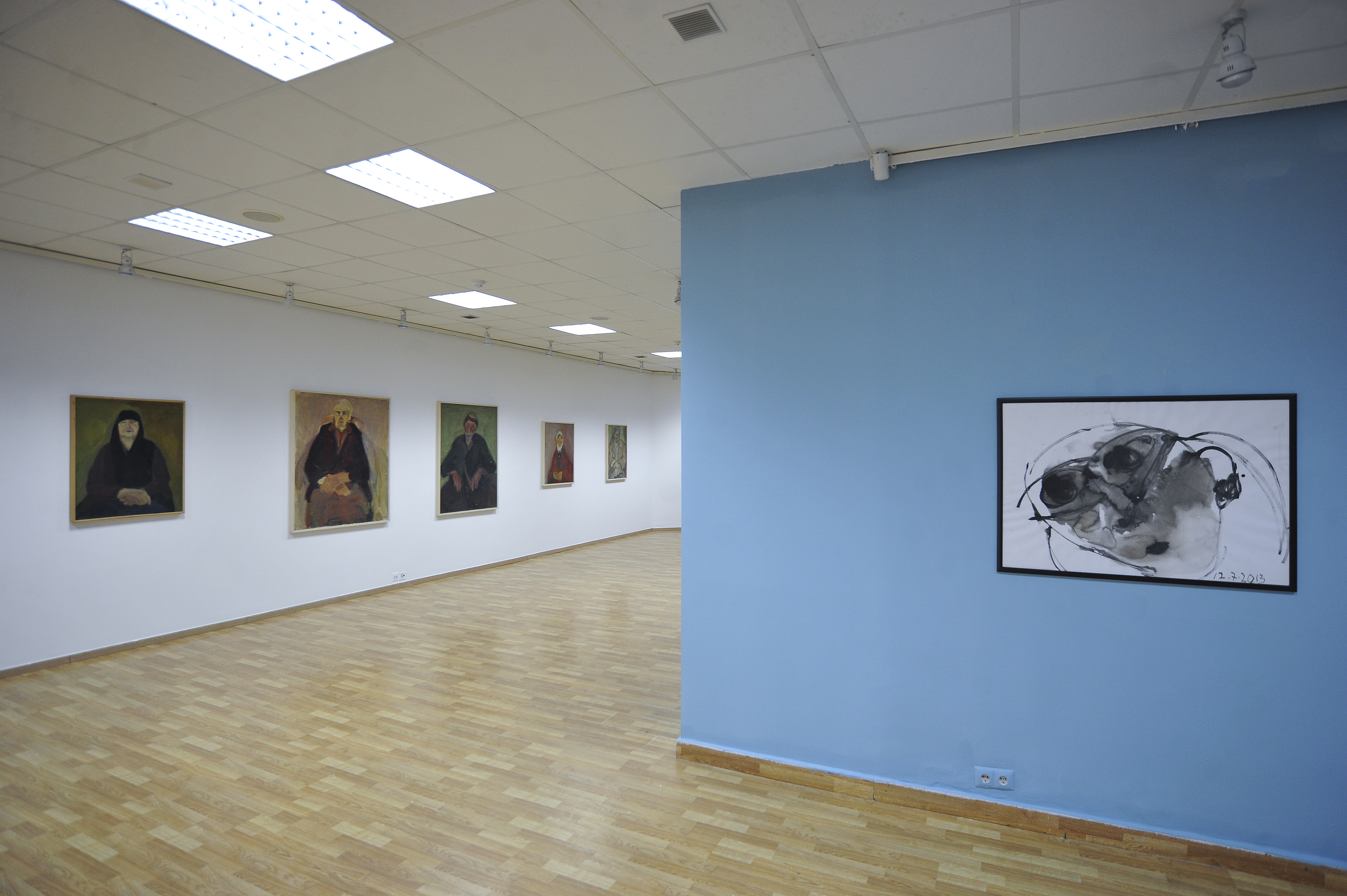 Vokshi also uses conservative colours in her portraits, like black, white or pale red – colours that are dominant in traditional Albanian clothes in the Dukagjini area.
Another notable painting of Vokshi, also dating from the 1970s, depicts an old man who apparently posed for her for several hours.
"The painting the 'Plaku në të zeza' (Old man in black) is also part of the exhibition and it shows an old man whom the artist met randomly on the streets of Prishtina in the '70s and asked him to pose for her. The old man reminded her of the typical highlanders she used to see as a child in the fields of her hometown. His plis is dirty and has accumulated old sweat and dust, and his face looks rather worried," explains Sylejmani in the exhibition's catalogue.
Vokshi's later work consists mostly of abstract drawings and paintings; the most remarkable are those from the Kosovo War in which the artist was preoccupied with the sufferings of Kosovo's people. She made a series of drawings and paintings in homage to the people who lost their lives in the Recak massacre in January 1999.
The catalogue includes four texts, one of which was written by Sylejmani and gives many insider stories about the artist and her struggle to become a painter, and stories about her life—about her room as a student, her car, a Peugeot 404 which smelled of bad paint, and her style and posture.
"It was my pleasure to write this text about her, as am I am also related to her, thus I have known her all my life," said the curator. "As a kid I was always fond of her room, in my grandmother's house here in Prishtina, where we kids were always prohibited to enter. She always closed the door with a lock whenever she was not in the house… it was always such a mystery to me, I was curious to see all her paintings and to touch them."
Prior to deciding to pursue an artistic career, Vokshi was also an avid basketball player. Photos of her painting, singing and partying in '70s and '80s Prishtina can also be found in the catalogue, images that are both fascinating and romantic seen today.
Playing basketball, painting, and studying abroad might not seem as impressive today but it was considered progressive, particularly for women, to do any of those things in  1960s  Kosovo, especially considering  most women wore the veil well into 1950s until the communist party organized mass actions against it.
"Alije was always an ambitious woman, if I can put it like that," explained Sylejmani. "She was never afraid to break the 'norms' of society, also I think she didn't agree with how some professions are traditionally reserved for women. She wanted to change that and do the opposite that society would want her to do."
Kosovars today are big fans of pop stars such as Rita Ora and Dua Lipa, but young people today should also maybe stop and honor progressive women like Alije Vokshi. To stroll through Vokshi's exhibition it is impossible not to reflect on how genuinely avantgarde her work and life are –  a struggling artist against her world, against her time.
The Retrospective Exhibition of Alije Vokshi will be open until March 16 at the Gallery of the Ministry of Culture, located in  Qafa, Prishtina.  Open hours are Monday to Friday, 8:00 am – 4:00 pm.
Featured image by Atdhe Mulla.