COVID-19 cases in Kosovo have soared from 30-40 per day last week to more than 100 cases a day in the last two days – but the country's hospitals are not seeing an influx.
While the Omicron variant surged across the world, Kosovo saw few new infections until New Year's Eve. On December 28, of 2,600 tests conducted, there were 28 new positive cases, while on January 4, out of 6,100 tests, the number was 108.
During the first three weeks of December, Kosovo recorded a fairly constant 0-20 new cases a day, of approximately 2,000 tests done per day.

After the alarmingly high number of cases and the high mortality rate of September, the situation calmed during the autumn.
The latest increase in cases is believed to be related to family gatherings taking place during the end-of-year holidays and the arrival home of diaspora members from different countries for the holiday.
The increase is also blamed on citizens not respecting official measures against COVID-19 strictly enough; many vaccinated people do not consider infection a serious risk now.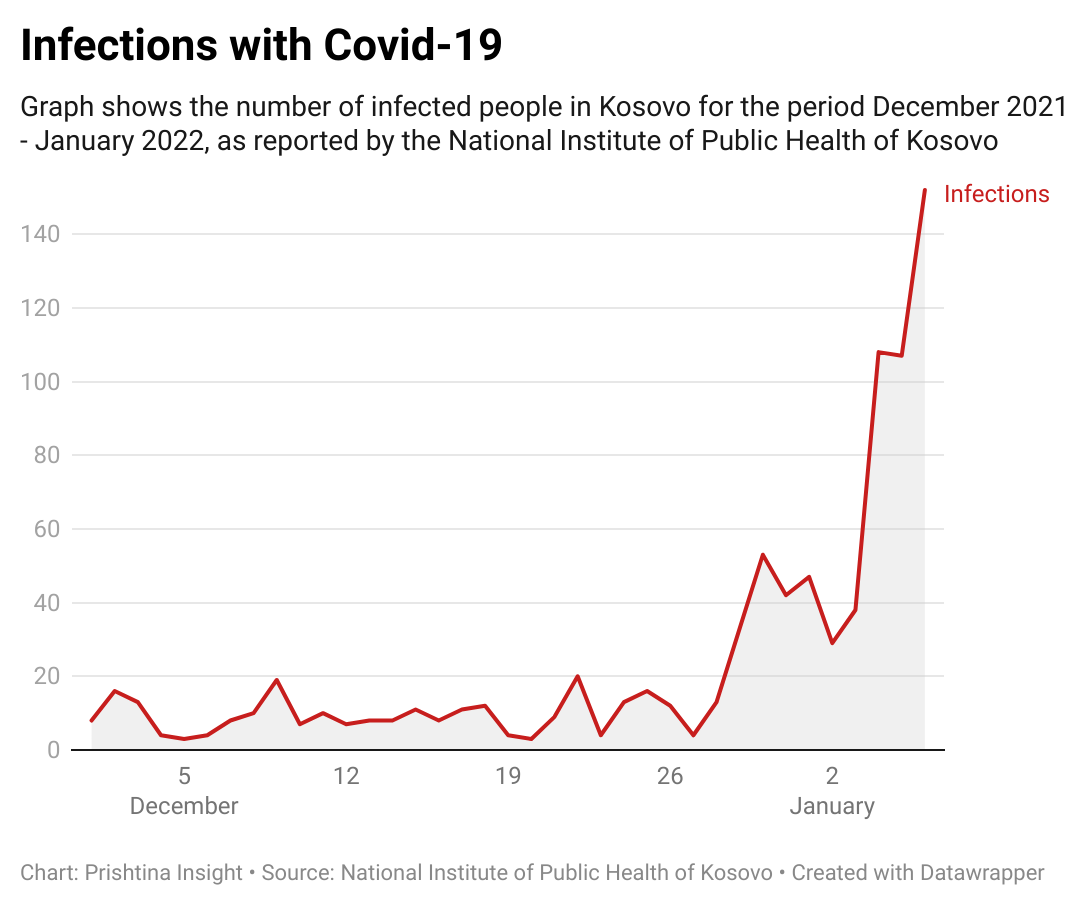 The number of people getting vaccinated on a daily basis until a few days ago was very low, but has risen since the Ministry of Health approved use of a third vaccine and a booster dose.
Growing interest in vaccination has come about also because it is increasingly needed for travel, and in this period, traveling in and out of Kosovo is significant.
Despite the increase in COVID-19 cases, however, in Kosovo clinics and hospitals are not seeing an influx of patients, which may be as a result of vaccination of most of the adult population.
During December, Kosovo registered nine cases with the Omicron variant of COVID-19, but none of them ended up in hospital.
Kosovo leads in vaccination rates compared to other Western Balkan countries. So far 49.1 per cent of the population have received the first dose, 43.8 per cent a second dose and 0.9 per cent have had a booster and third dose.
Kosovo started offering boosters and the third dose of the vaccine in December.
The vaccination process in the country began on March 29, with Prime Minister Albin Kurti receiving the first dose at the October 1 Sports Hall in Pristina.
Only Pfizer/BioNTech and AstraZeneca vaccines are available in Kosovo, both approved by the European Medicines Agency and the World Health Organization.