"His orientation does not represent any danger for our family and others. I couldn't leave him on the street," she continued.
Musa-Cerkini said her son faces difficulties in society.
"Despite our support in the family, he hasn't been feeling good recently. This pushed me to go public. Parents should be aware of what these children go through. He did not have any problem in the family but the problem was when he went out in the street, what he wears," she said.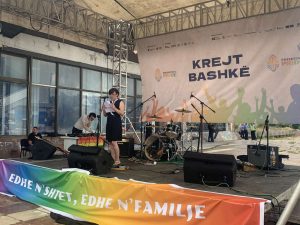 Legal rights for the LGBT community also continue to be an issue in Kosovo, and dozens of human rights activists protested in Pristina in March this year after parliamentarians failed to adopt a draft civil code.
Most of the parliamentarians said the reason was an article in the code that paves the way for the future legalisation of same-sex civil unions, citing family and religious values as the reason for their opposition.
International rights organisation Human Rights Watch appealed in a letter to Kosovo President Vjosa Osmani, Prime Minister Albin Kurti, Minister of Justice Albulena Haxhiu and MPs to allow same-sex couples to marry.
"As lawmakers in Kosovo continue to legislate in this area, we urge them to end the exclusion of same-sex couples from marriage, rather than creating some new, other legal regime," the letter said.
"Uncertainty around the scope of civil unions puts same-sex couples and their families in Kosovo at risk," it added.